I drove like the devil was sitting beside me to make it to the 500-strong Land Rover Owners UAE Club annual season opener, because when else does one get to see so many awesome off-road vehicles and their owners in the UAE?
Alas, the sun was against me and I missed it!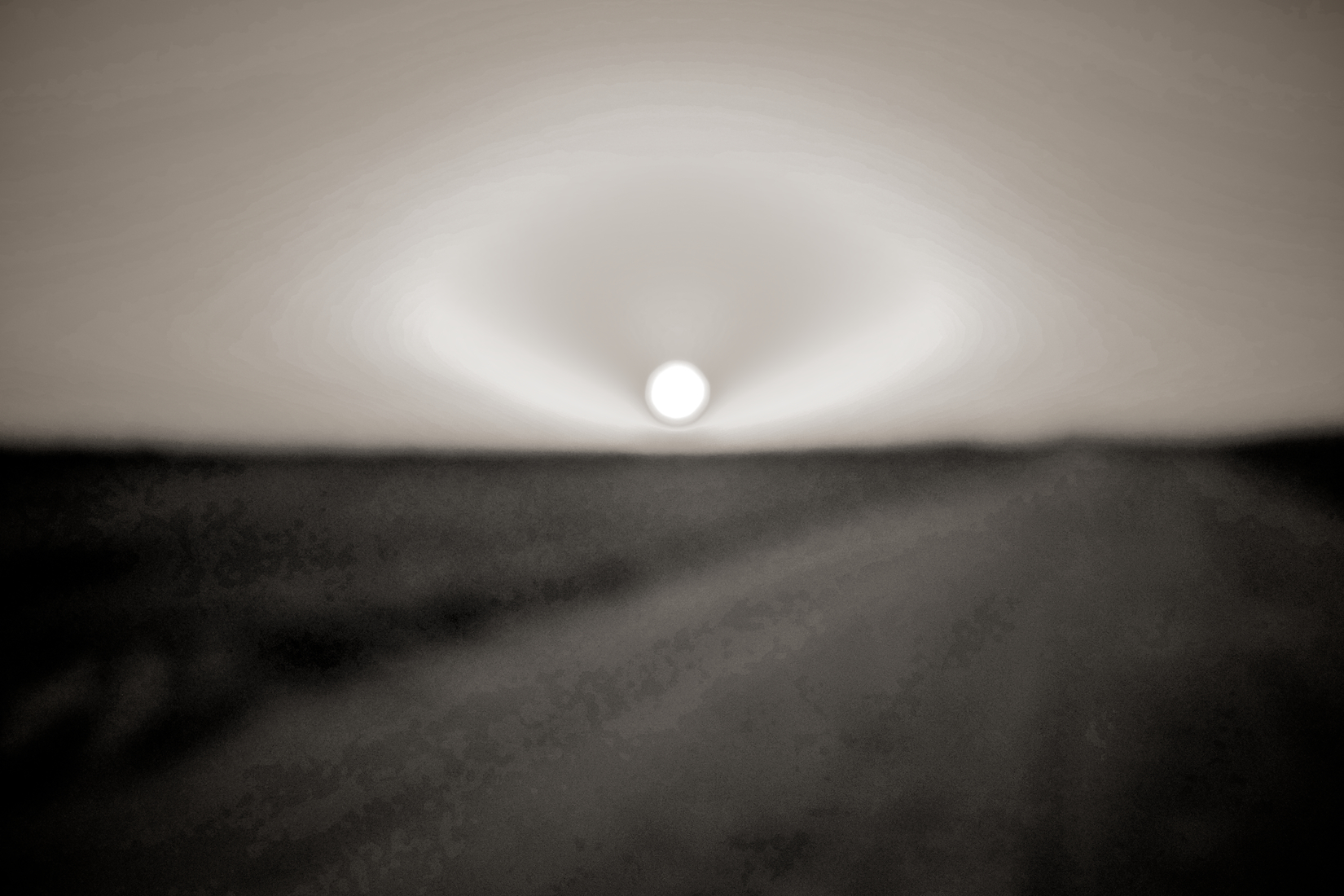 The Land Rover Owners UAE club mainly communicates via Facebook – if you own a Land Rover vehicle check them out.
This is their description:
A fast growing Land Rover owner's social group for the UAE, all Land Rover and Range Rover owners are welcome to join. We all have one thing in common "We Love LAND ROVERS" come and bring your LR off road where it belongs.
Please Note that this group is not endorsed by Land Rover and not associated in any way with them except as individual owners of their product.
Please also note that taking part in any event arranged by any member of LRO UAE is done at owns risk and LRO UAE and its members are not responsible for you or your property in any way, by attending an event you agree to these terms.
ONE LIFE LIVE IT
I was fortunate enough to meet one of their Four Founding Fathers, Kim Merritt, where the sand track turned to pure sand dunes, and so he guided me in.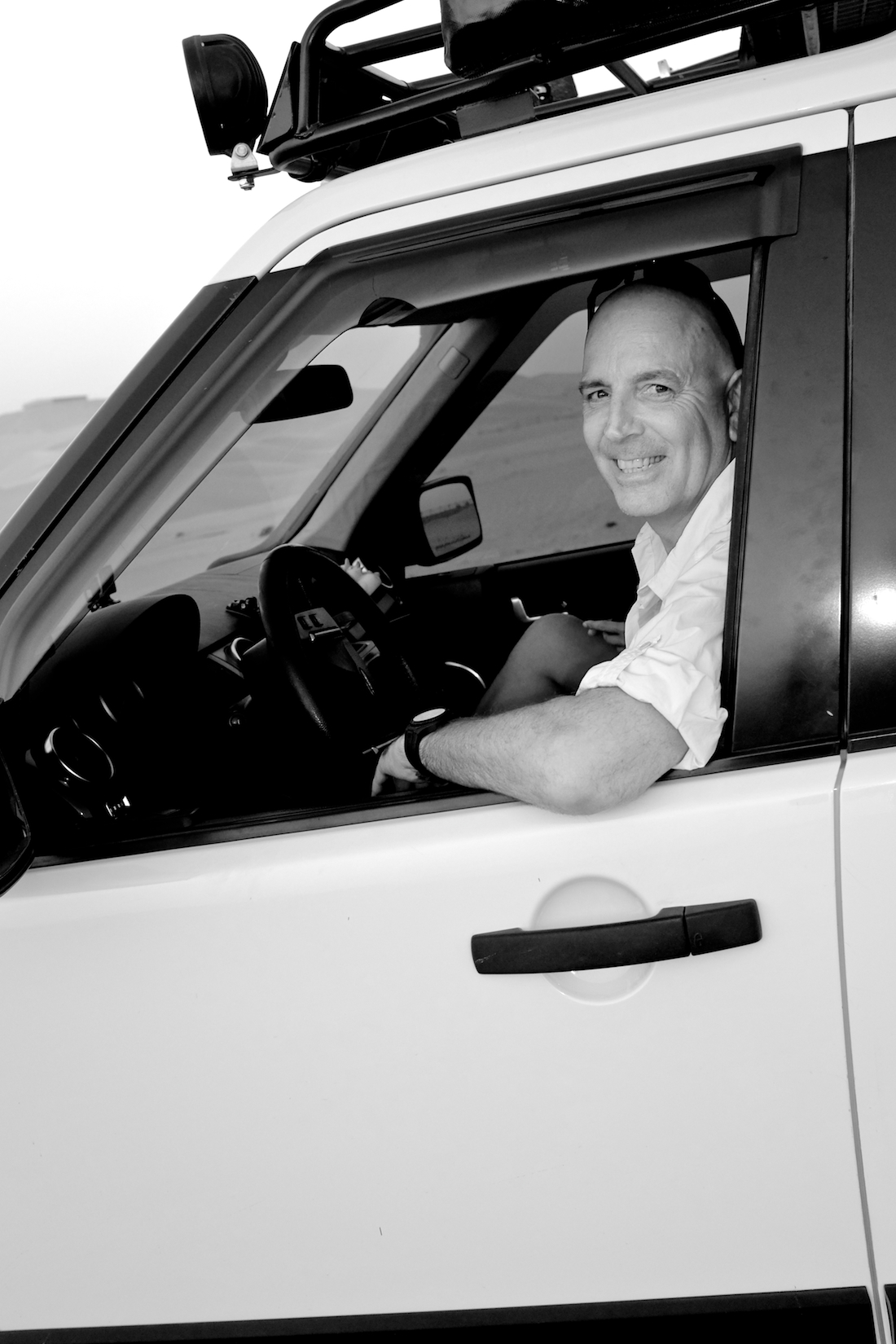 The way in was Land-Rover-style, of course!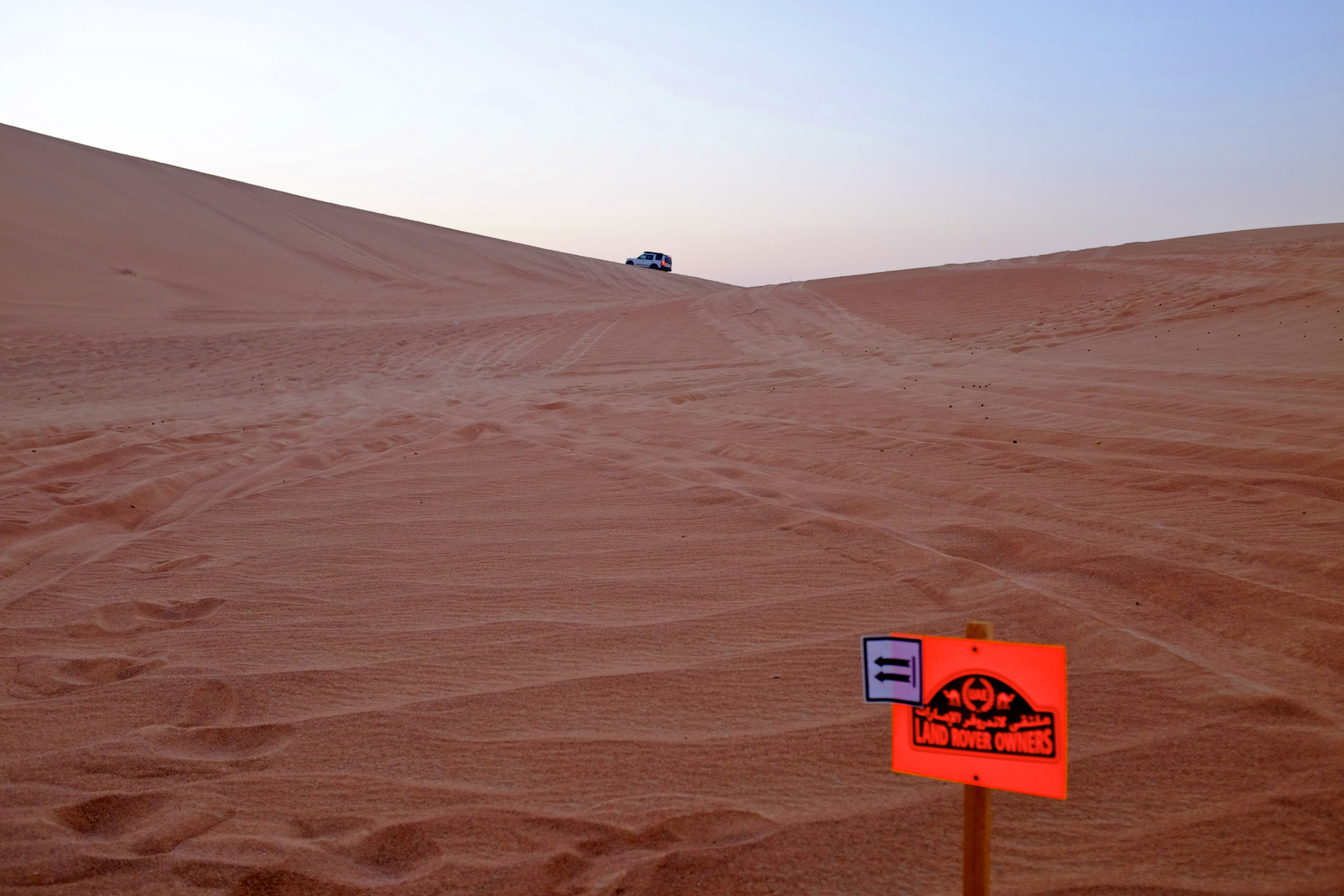 The Land Rover community is a tight-knit bunch of otherwise sane and professional people, from all walks of life and different nationalities. They share their passion for the brand, and their expertise of repairs, accessories and modifications runs very deep indeed – they are deep-down Land Rover experts!
Many of their vehicles are masterpieces of modifications – but not 'modifications' in the sense that they then race dangerously, not at all: they prepare their vehicles for expeditions and camping, and they improve the off-roading prowess of what is already a formidable 4×4 brand.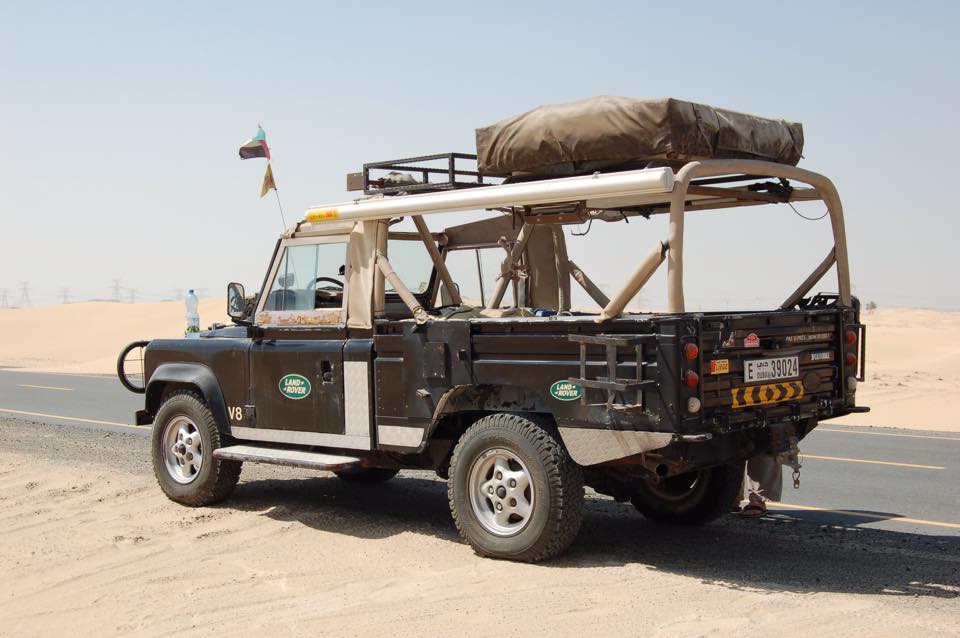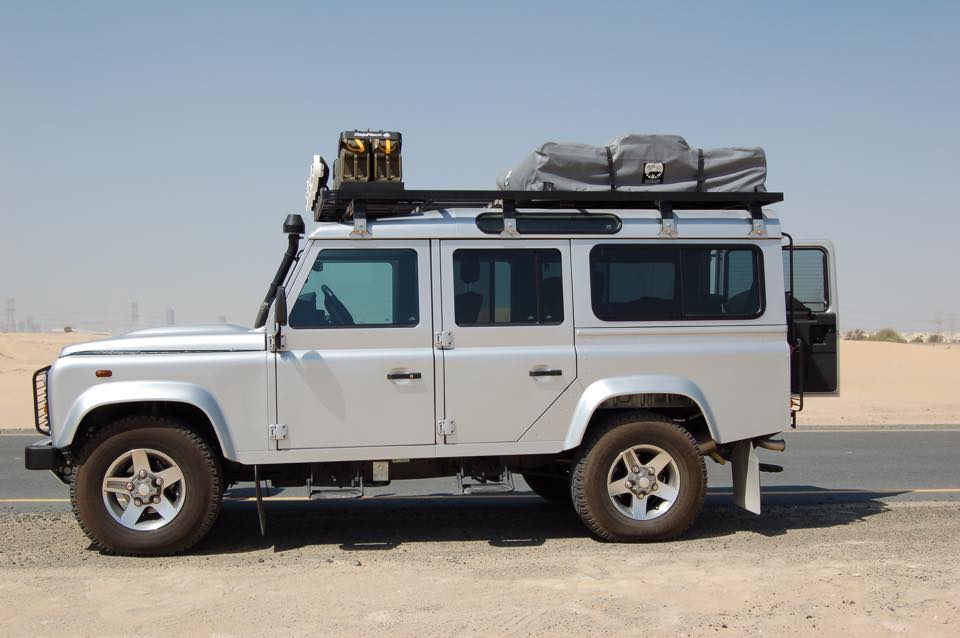 The above Land Rover Defenders respectively belong to Marcel Camel and Graeme Stewart, with photos courtesy of Damien Cashinella, all LRO-UAE members.
So is Chester the Spaniel…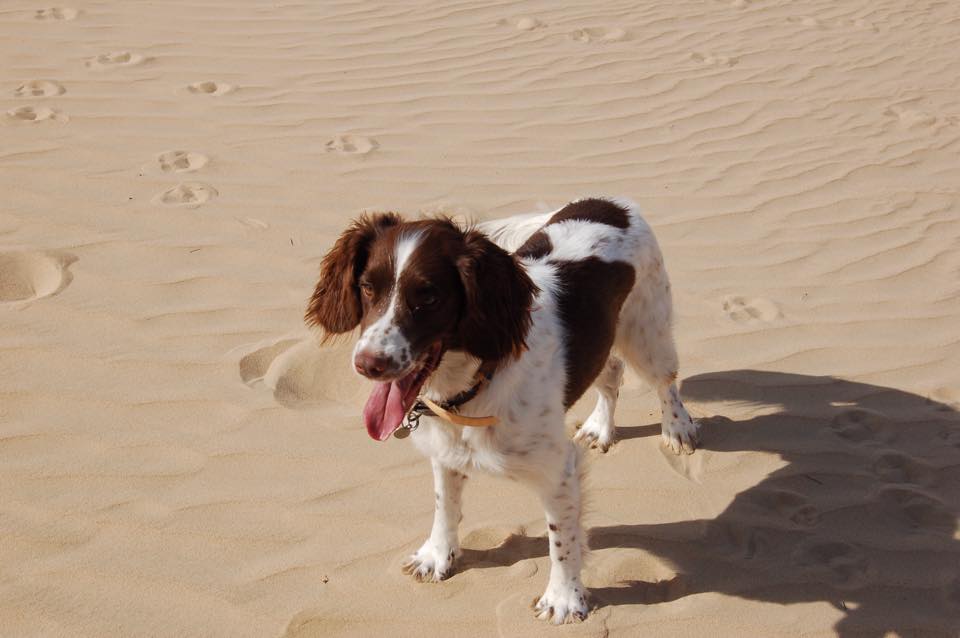 Kim Merritt's Land Rover showcases some of the thought gone into preparing a vehicle for desert crossings.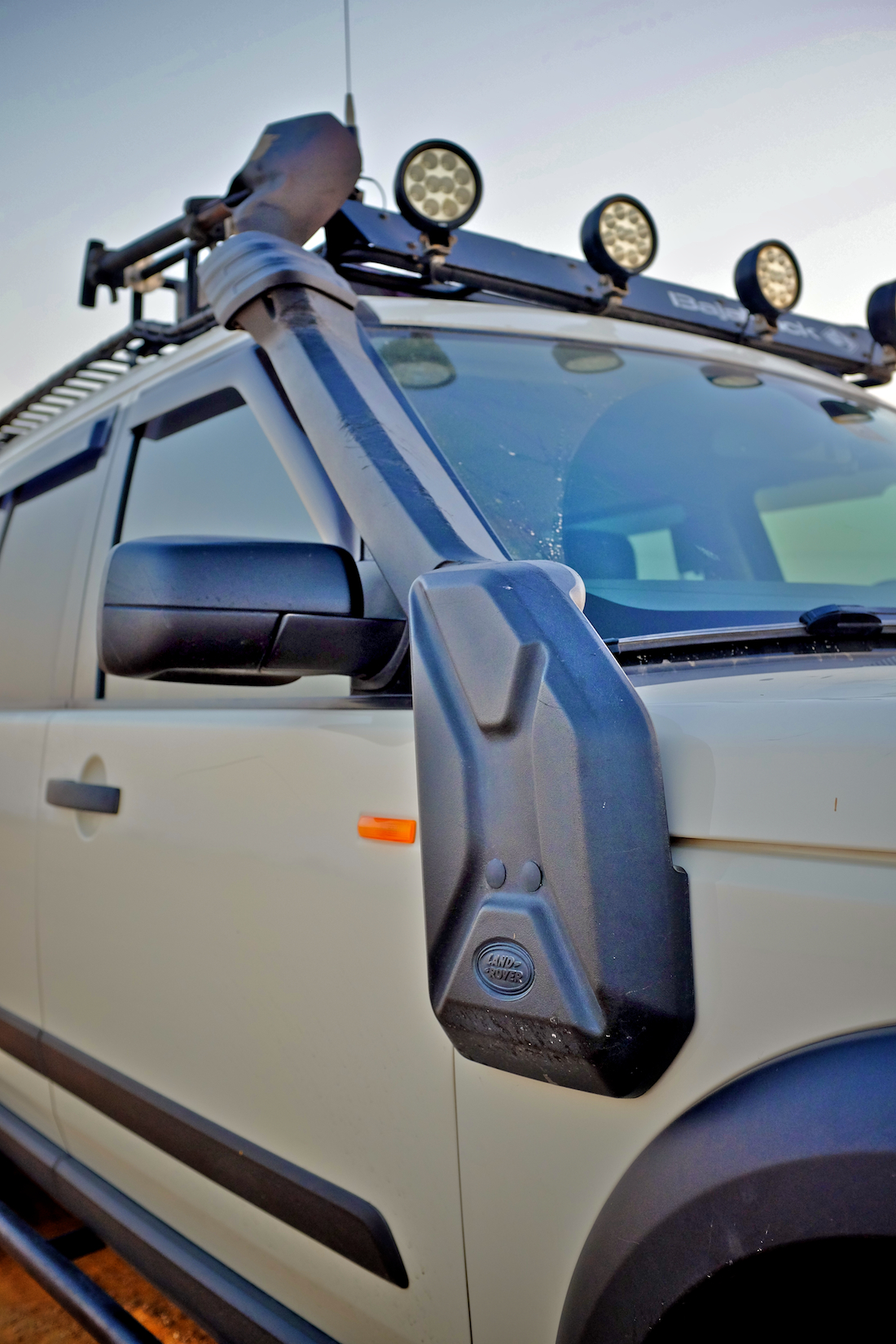 A snorkel to raise the air intake is not only for wading across rivers, it also keeps the dust out of the filter – something very important when travelling in convoy over sandy tracks.
Auxiliary lights forego the old incandescent filament bulbs in favour of LED, which are longer-lasting, hold up better to the kind of vibrations on washboard tracks, consume far less power off the alternator, and even offer a brighter light pattern.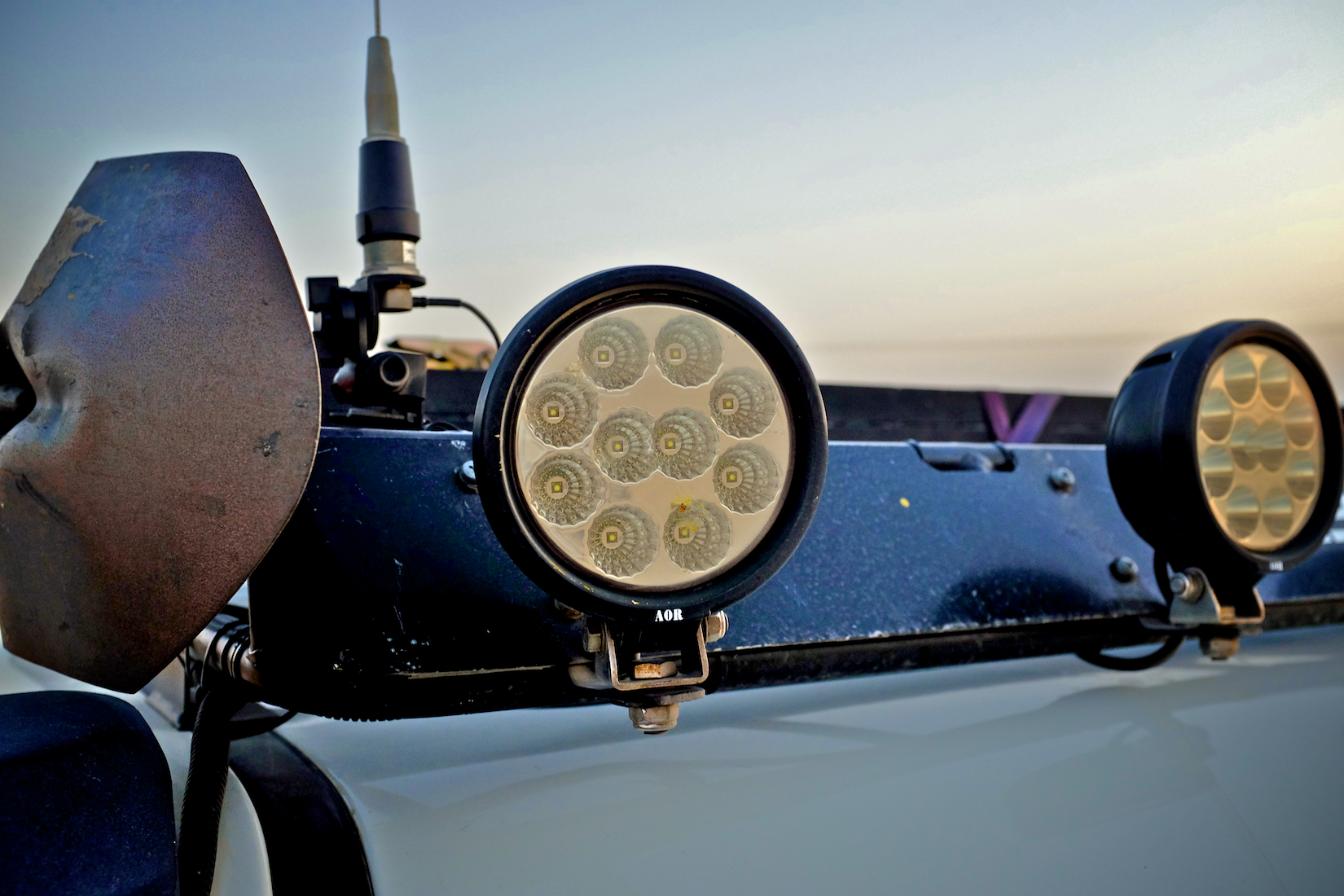 Up high on the roof rack they illuminate with a downwards perspective, useful to shine light into depressions in front of you, while down by the front grill the more powerful spot beams can aim for the horizon.
Note also the matte black covering of the bonnet (yes, it's a bonnet – Land Rovers don't have hoods, unless Little Red Riding is in the passenger seat!) – is that black sticker on there for cool looks? Don't be silly, please. The bonnet is masked to prevent glare from the roof lights from interfering with the driver's night vision. All is properly thought out, you see.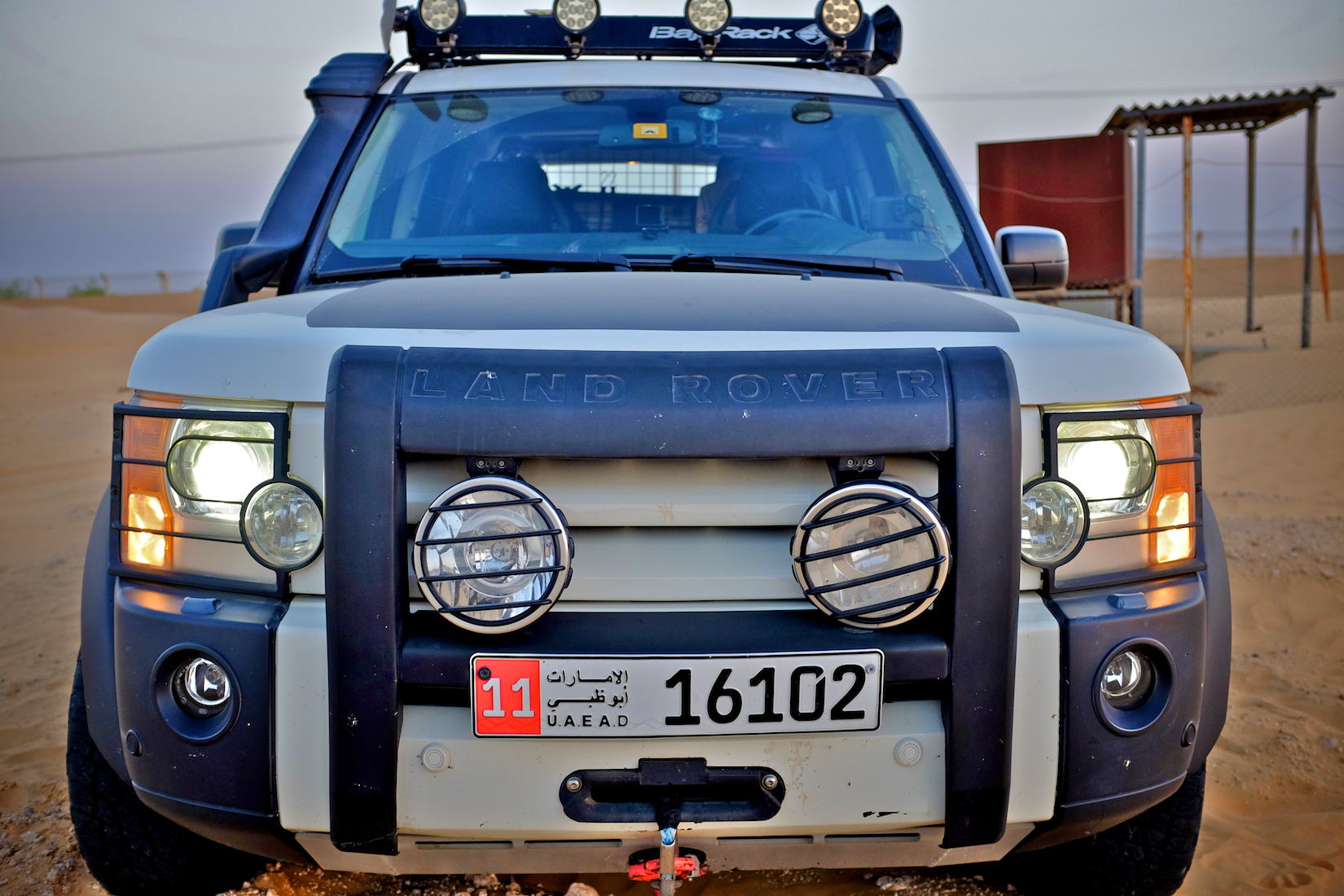 Stone guards give the needed protection, while a winch built into the bumper guarantees an exit from any sticky 4×4 situation.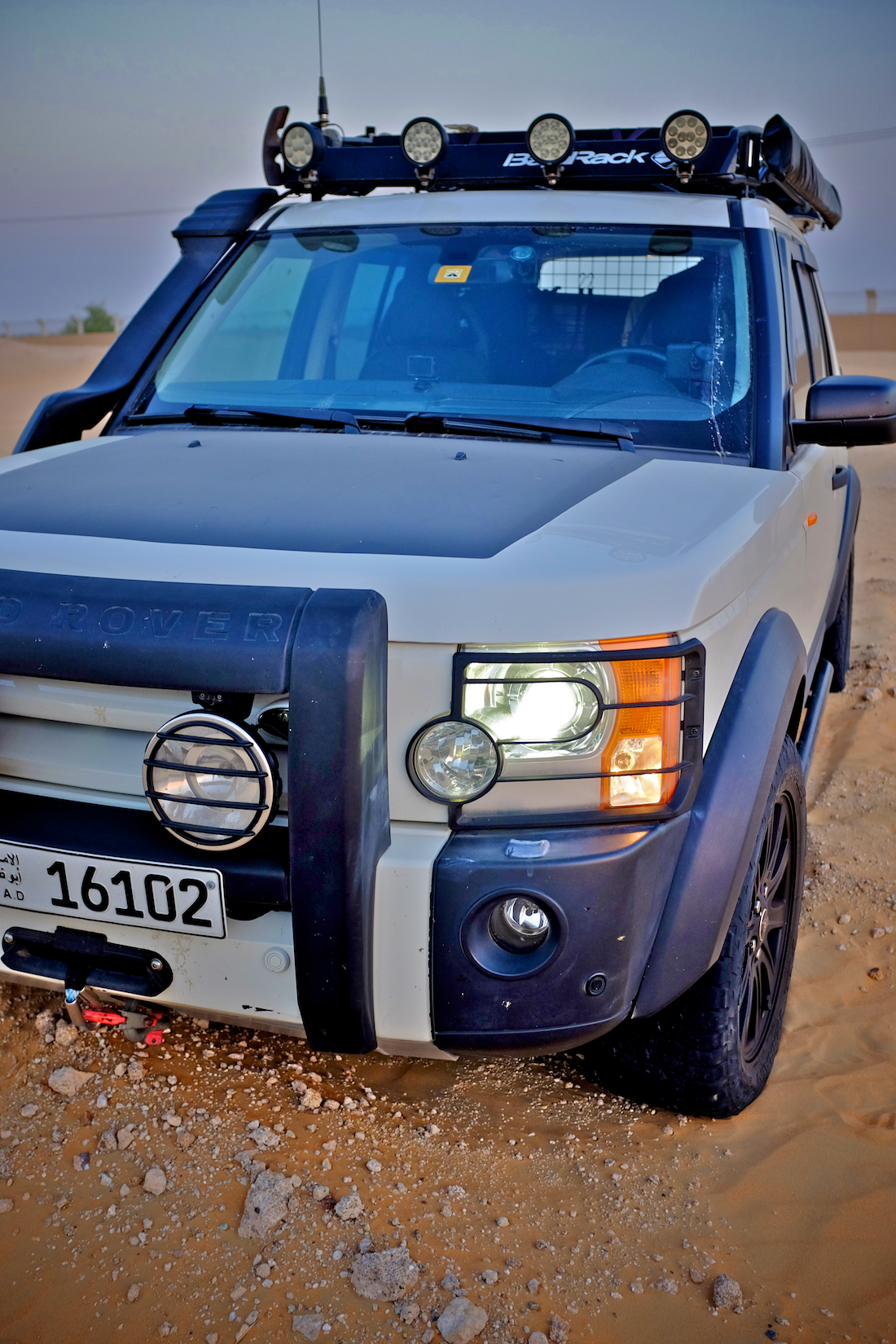 And on the roof, instant shade in the form of an awning, and do I see a roof-tent?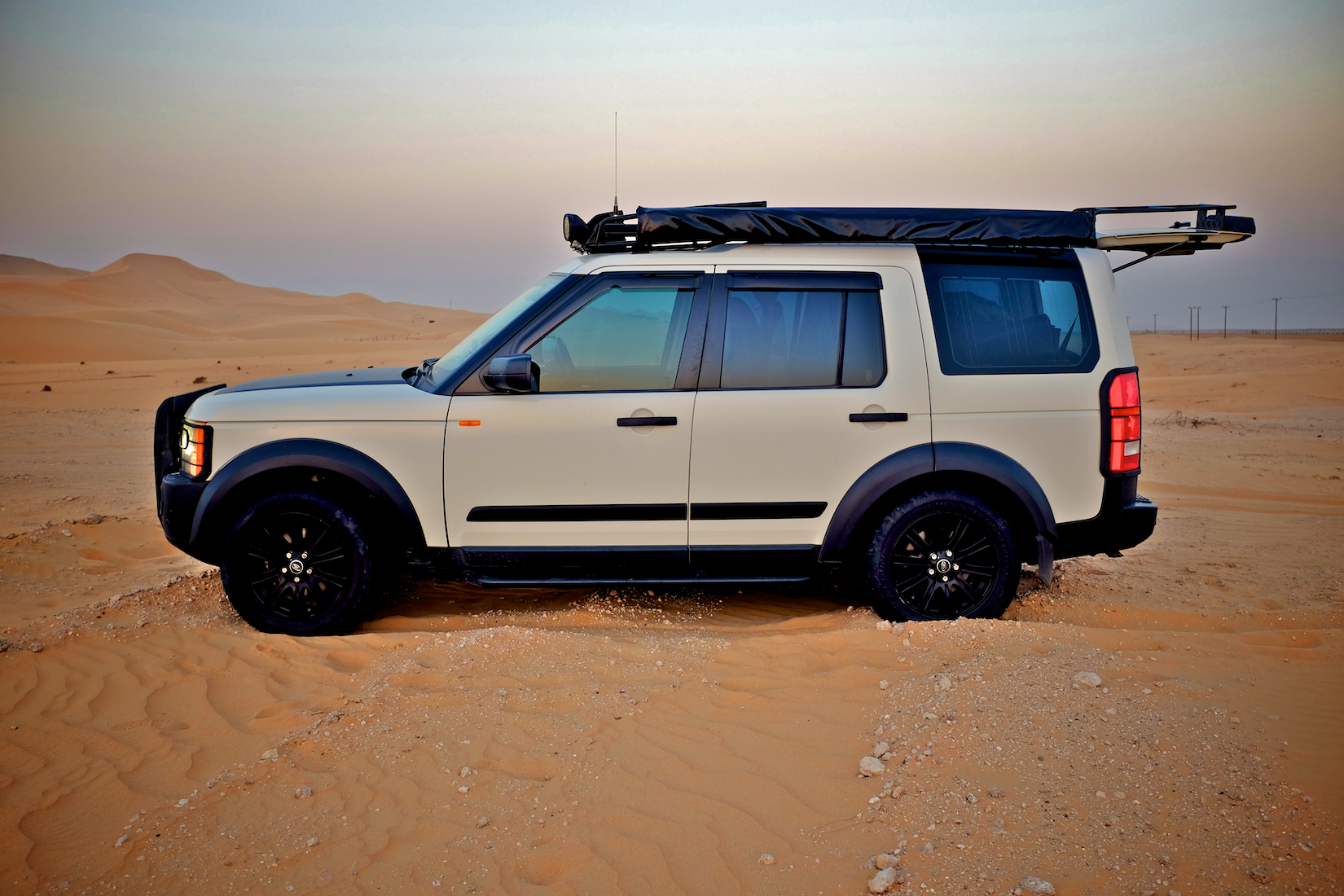 Not sure a roof-top-tent can be that sleek, but there is a handy ladder to reach the roof if needed.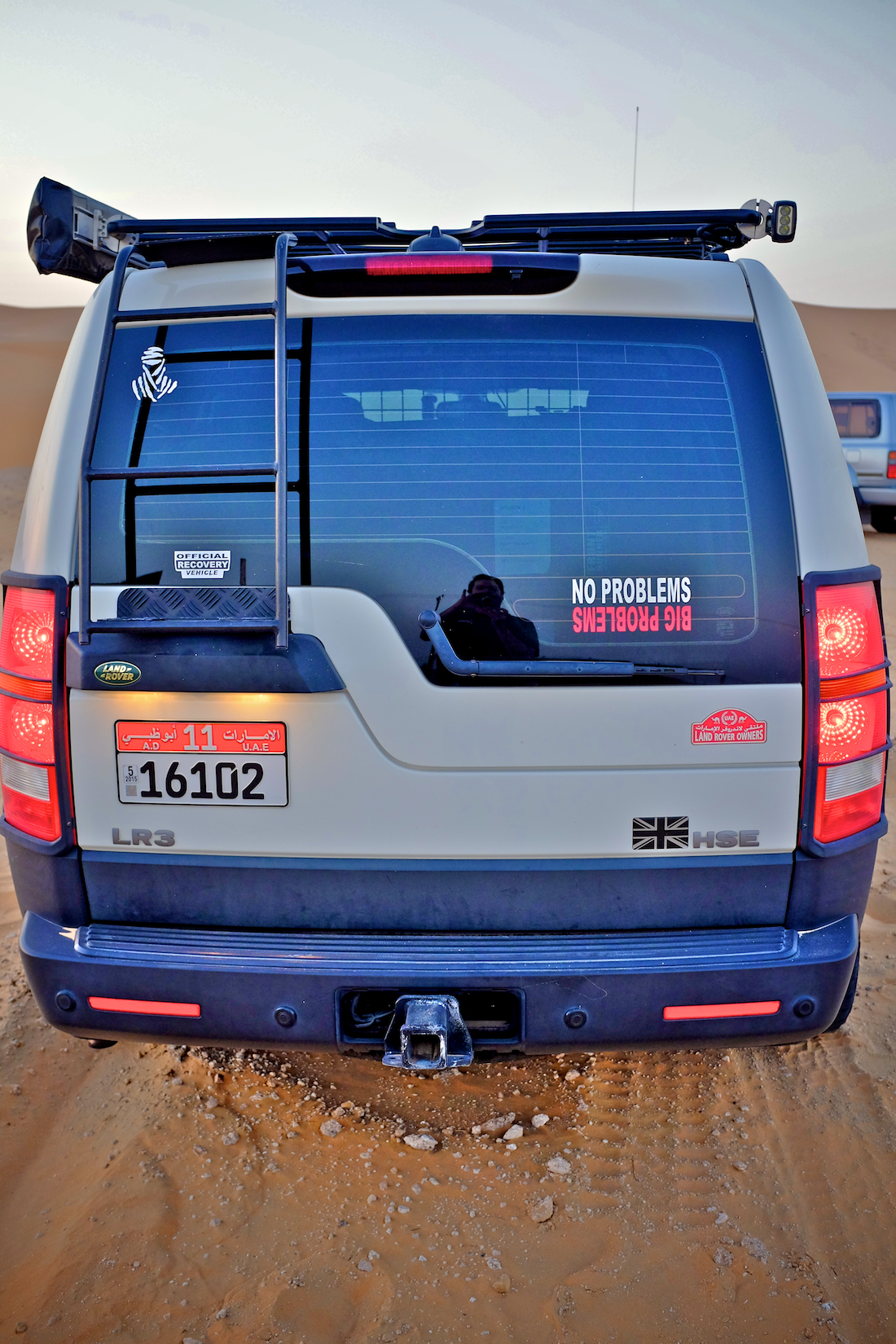 And that's how a Land Rover is built by a LRO-UAE member – did you notice the club sticker right, by the tail-light?
And at the campsite… merry-making is on full swing when you get a barmy bunch of Land Rover owners together!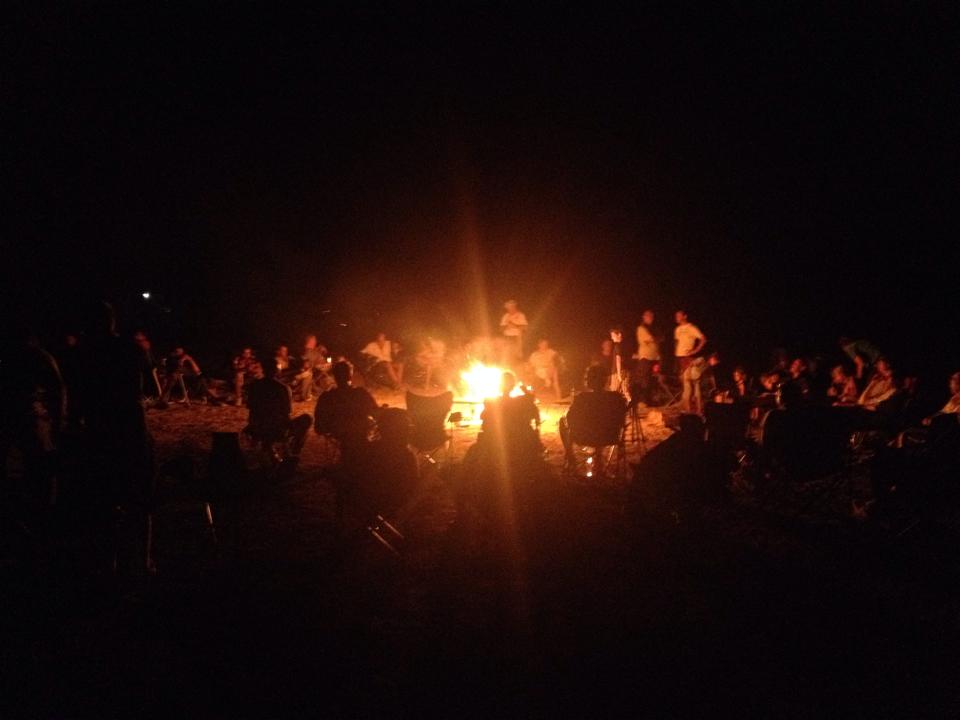 LRO-UAE member Karim Saad captures the scene from high above the following morning: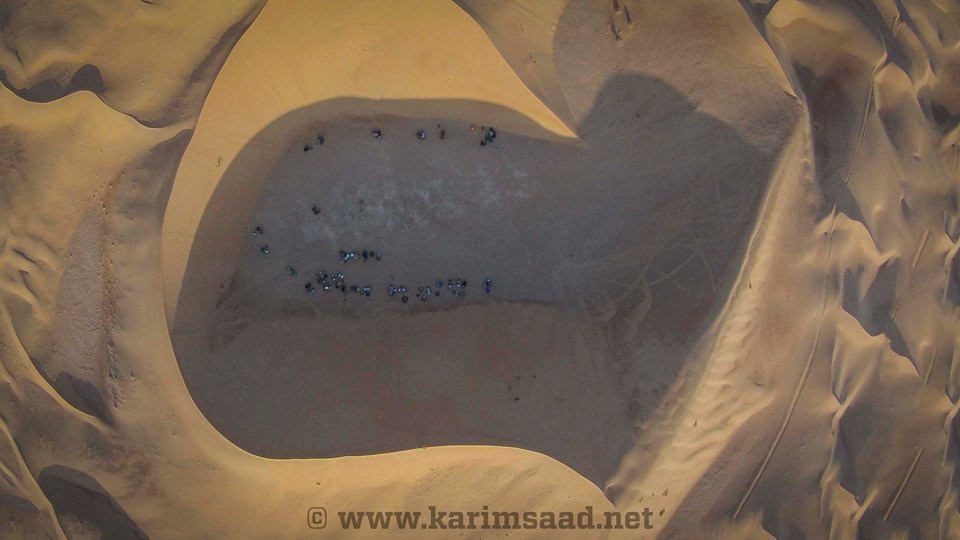 And if you're in need of a brilliant campsite or dune playground, look no further:
But you'll have to find the way in on your own!