Reports of foodies driving from Dubai to Ajman for a meal have reached my watchful ears…
…my immediate thought was "Who in their right mind would do that?" – what with so many fantastic restaurants in Dubai…
…but then the suspicion surfaced: "Hmmmm, it must be something really special to voluntarily traverse the Sharjah traffic jungle just for a bite to eat on the other side!"
And so I followed the trail to Gawalmandi restaurant, and I was rewarded with exceptional Pakistani food!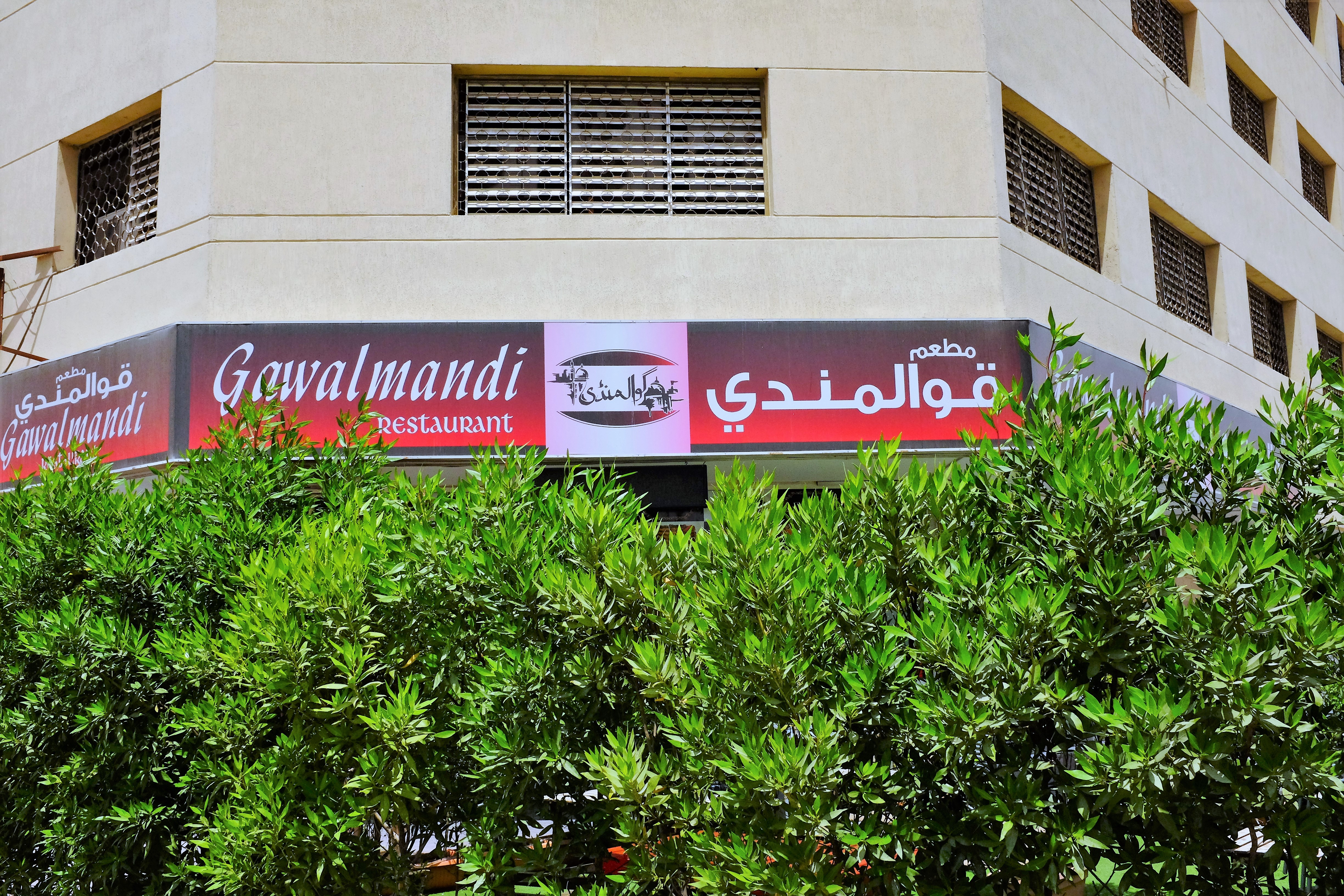 "Look, Abbu – another foreigner who thinks he knows about Pakistani food…"
Admit it, the thought did come to mind, didn't it! Well, true I am a foreigner, but my family was blessed with the charms of Pakistani cuisine since I was a child, and in 18 years in the UAE I have not only had the good fortune of sampling very many Pakistani restaurants, but good friends native of the country have enjoyed introducing their favourite homemade dishes, delighting in my ability to handle the spices – so, let's say I'm a foreigner who can recognize a good tasting Pakistani dish: fair enough?
So, was the trip to Ajman worth it?
Absolutely YES!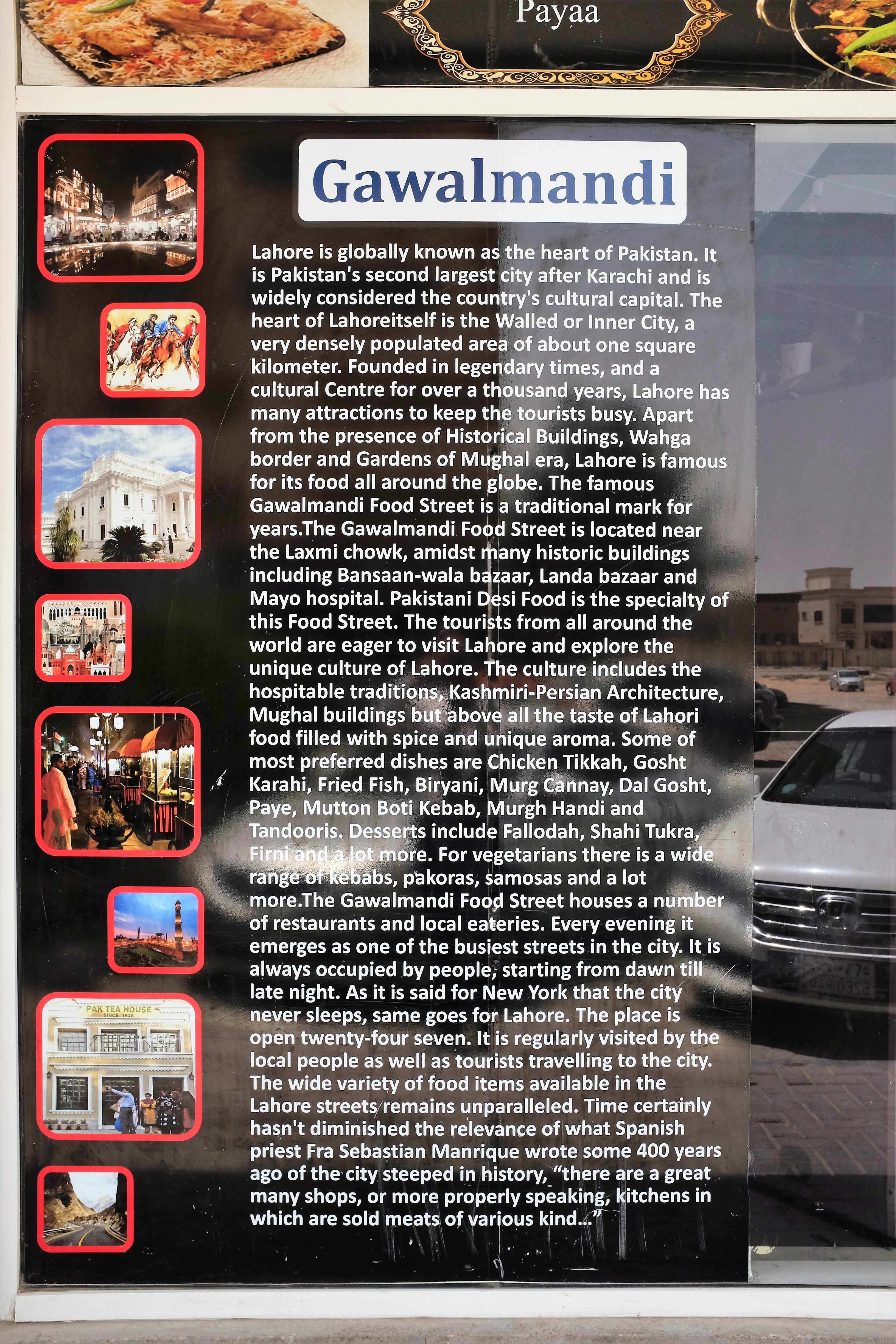 Gawalmandi is a humble restaurant. It is tucked away and in a back street – either opened by someone with an astounding lack of sense of direction or by someone confident enough to believe that the delicacies served are powerful enough to lure diners in from afar.
And the latter is definitely the case.
The restaurant dining area is small, but the kitchen is large – immediately showing where the right focus is.
And it is cheerfully decorated.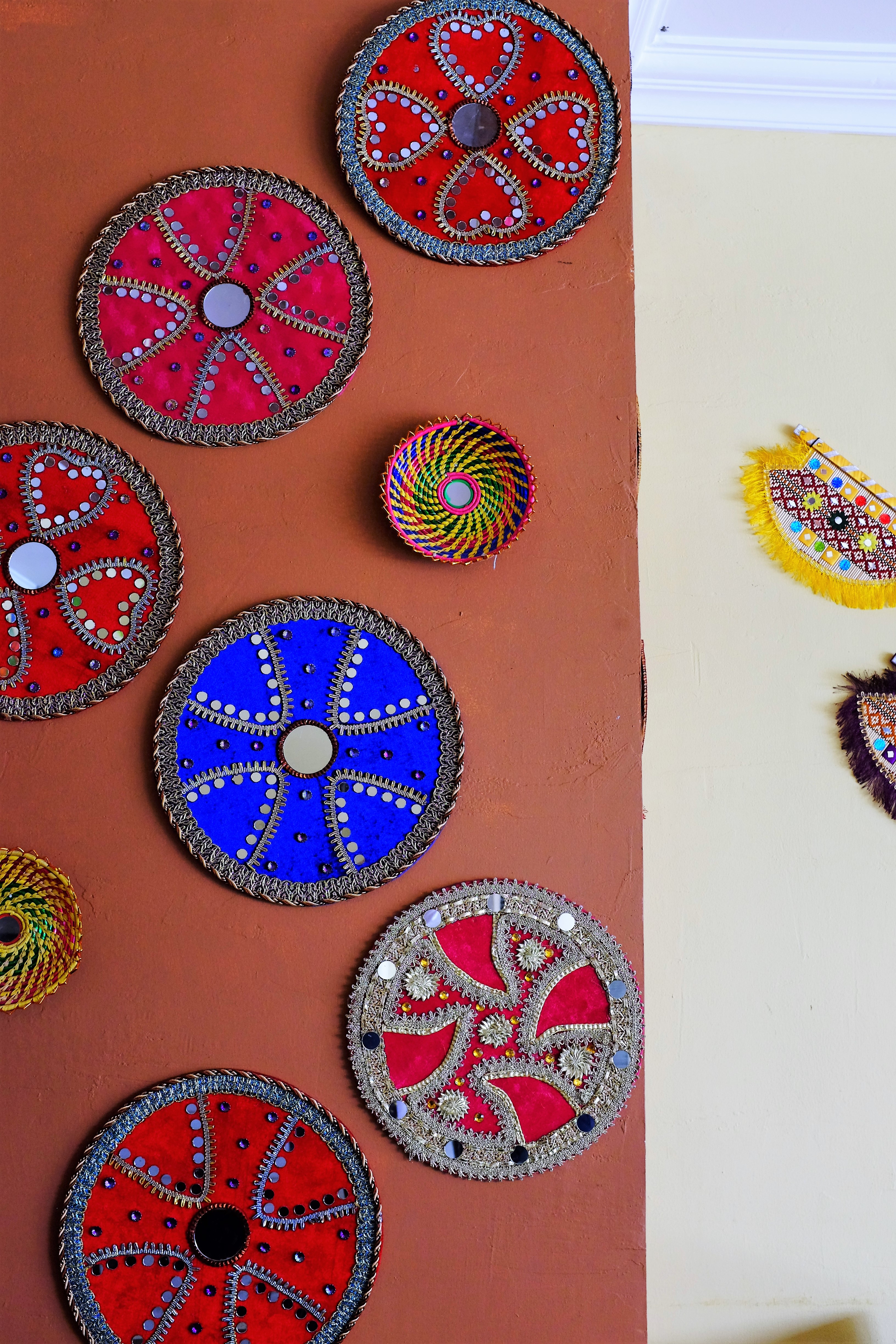 Also with a delightful hand-painted mural: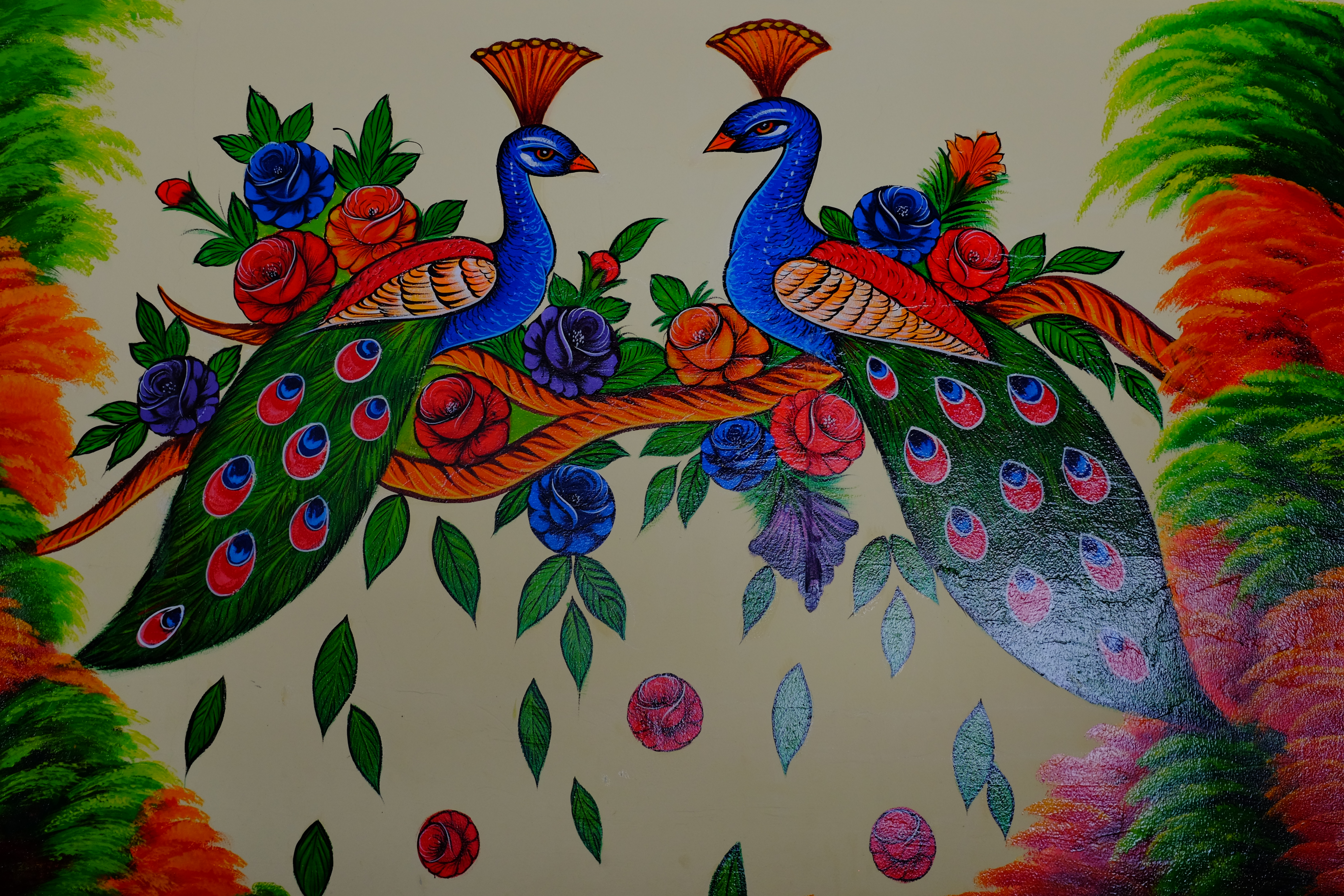 But here comes the food!
The chicken arrives in a large cast-iron pan, straight off the fire, and that alone should make one nod in appreciation – traditional cooking methods call for traditional cooking utensils, and the venerable open cast iron pan (the karahi) has been the utensil of choice for generations, as it manages the heat wonderfully, especially for slow-cooked dishes that are left to simmer and consolidate the flavours – such as the Murgh Karahi.
(The half portion shown below!!! I imagine a couple of normal portions will feed half a cricket team!)
Just one look at it and you know this is going to be delicious! The sauce is dense, utterly flavorsome, and the chicken meat is so tender, almost falling off the bone if you just look at it.
And then comes the bread…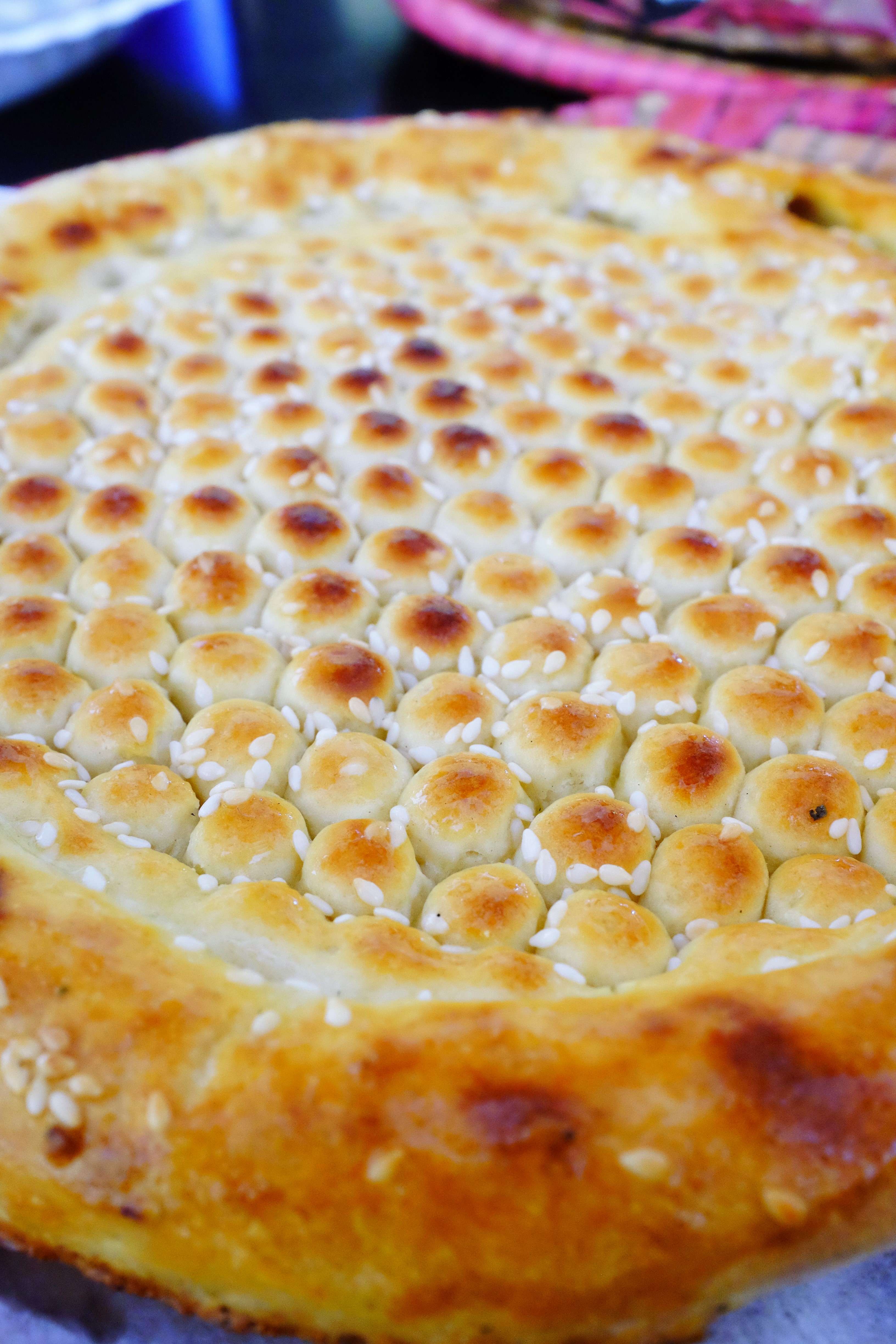 Such care went into the preparation of a simple flatbread – would you believe the same care has gone into the dough, and the baking?
Absolutely – this is the best bread I have had the privilege of receiving at a restaurant table.
Try it and tell me I'm wrong.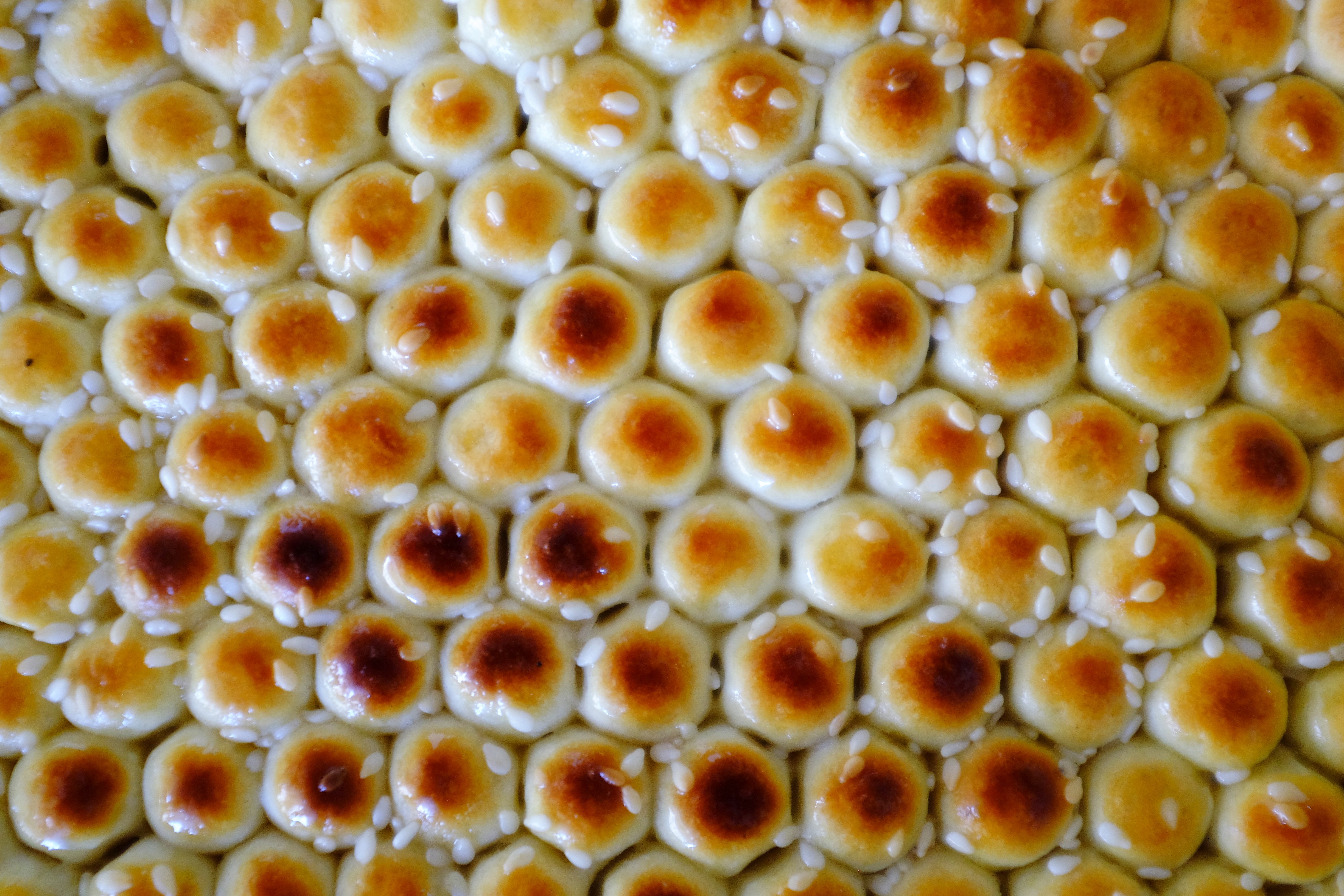 I also tasted the chickpeas – Daal Chana Fried – also excellent: smoky foundation, creamy, then the spices come through: again, an unpretentious dish, but one with a history dating back thousands of years, and, in fact, one of the earliest legume crops.
Maybe our Gawalmandi cook can trace his ancestry to 5,000 years ago, where in the area where modern day Lahore stands, proudly in the Punjab region of Pakistan, people were growing and cooking Bengal gram (this type of chickpea). Because he sure knows how to tease out an amazing taste!
In fact, as a side note, Pakistan boasts archaelogical finds from way back in the Stone Age, from the Lower Paleolithic, which began about 3.3 million years ago – so 5,000 years of delicious cooking is nothing on that scale.
In modern terms, Lahore Fort is a UNESCO World Heritage Site, and Gawalmandi Food Street is a brief walk south, an area immensely popular for food – and now extending as far as Ajman by this wonderful restaurant, proudly sharing a unique cultural cuisine, with genuine recipes and without compromise.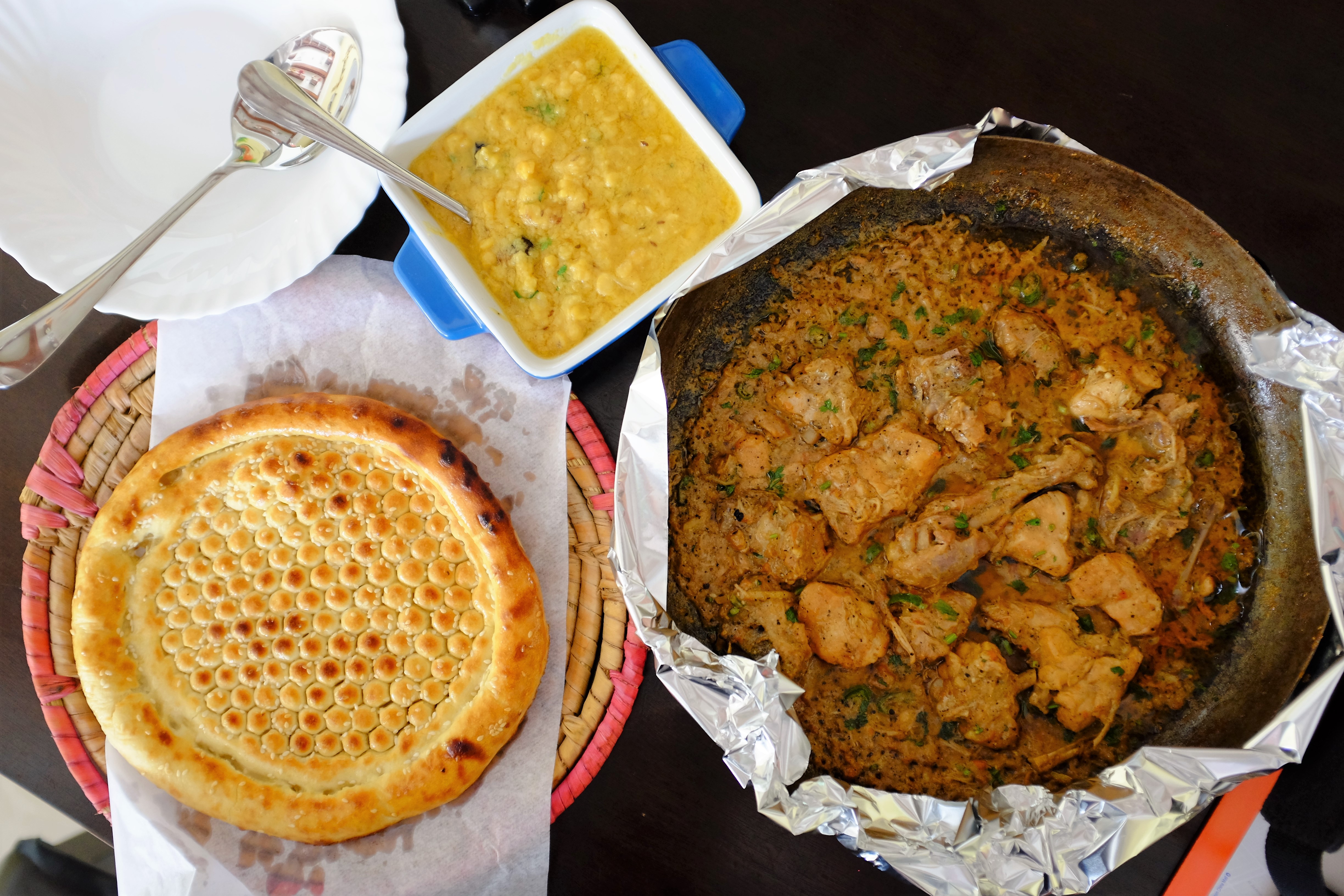 And yet, meal completed, fully satisfied and satiated, and unable to finish, all that goodness came to a mere 37 dirham.
Ask me again why people would drive to Gawalmandi restaurant in Ajman…