It's in Fujairah emirate, but not Fujairah city – in fact, it is located in the prettiest location of the whole East Coast!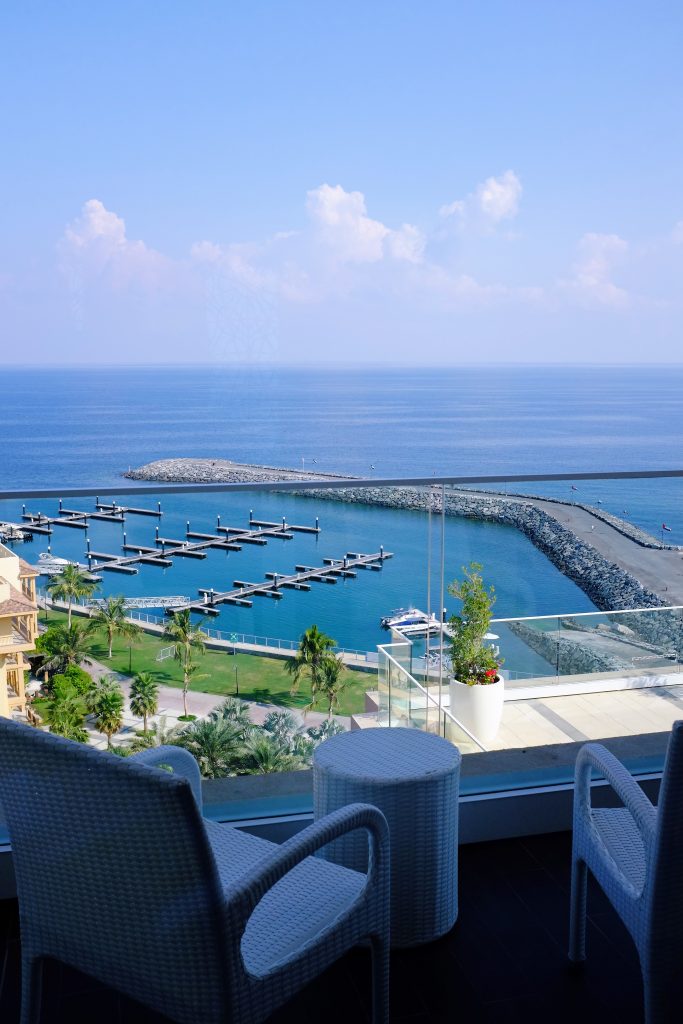 An effortless five-star beach resort, the Fairmont Fujairah views will stay with you for a very long time.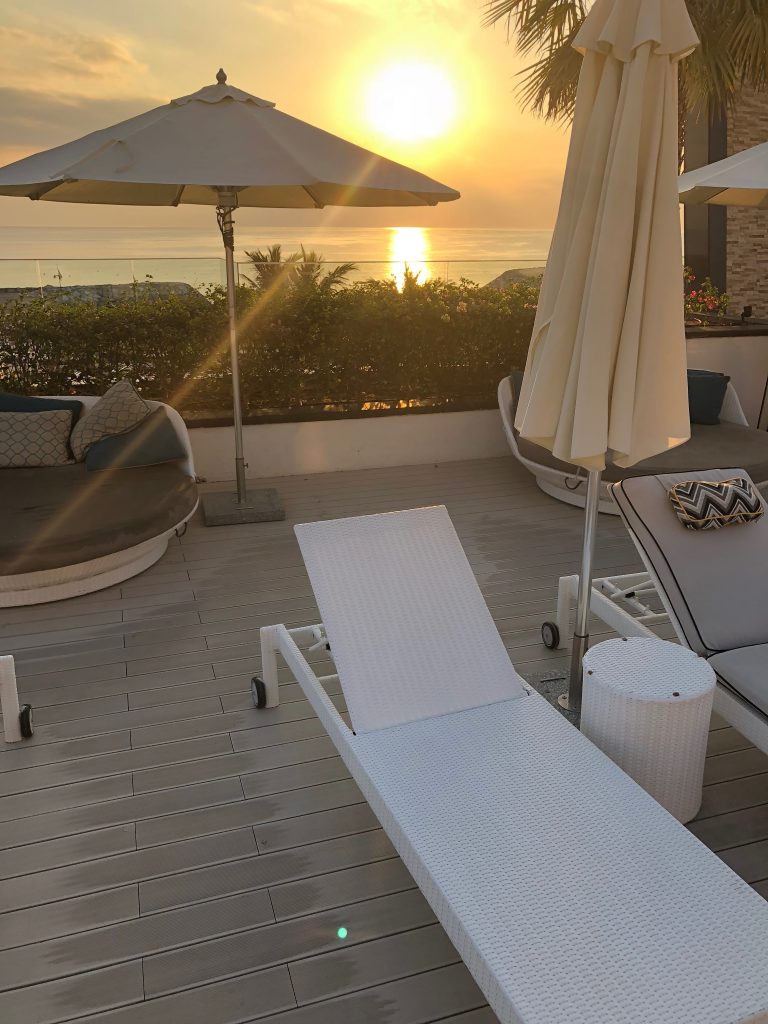 The concept is that of a rustic village carved into a cliff-face overlooking the Gulf waters, fronted by a world-class marina, and sided by the Fairmont Fujairah's elegant guest rooms, swimming pools, private beach, and restaurant outlets – plus, in the center, a shaded courtyard.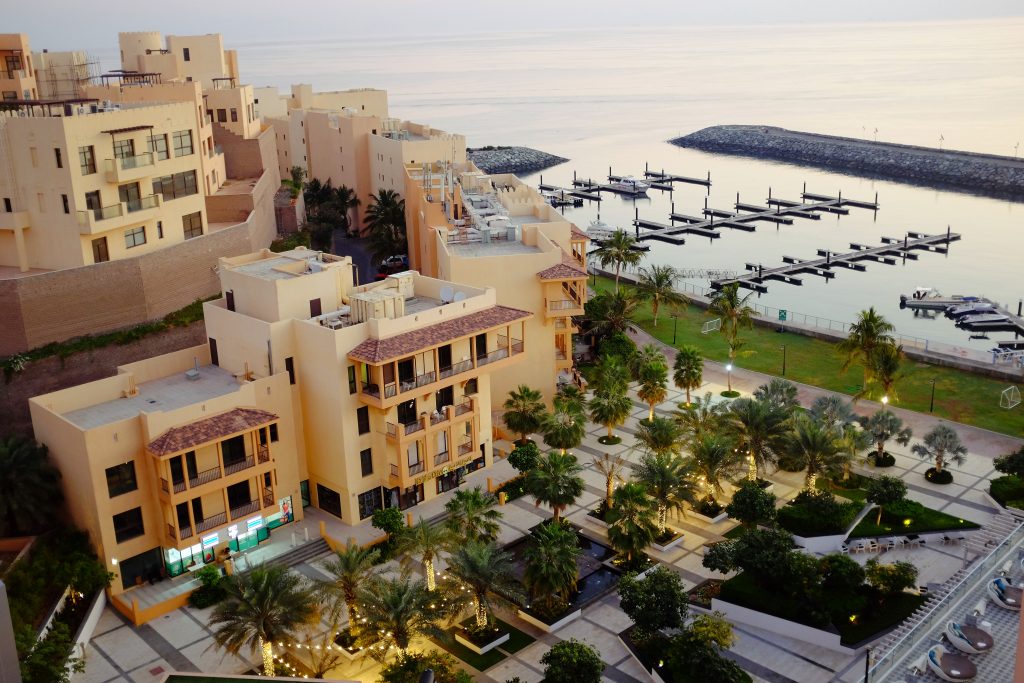 The result is a splendid combination of seaside living and luxury beach resort!
Two beautiful swimming pools beckon – one family oriented,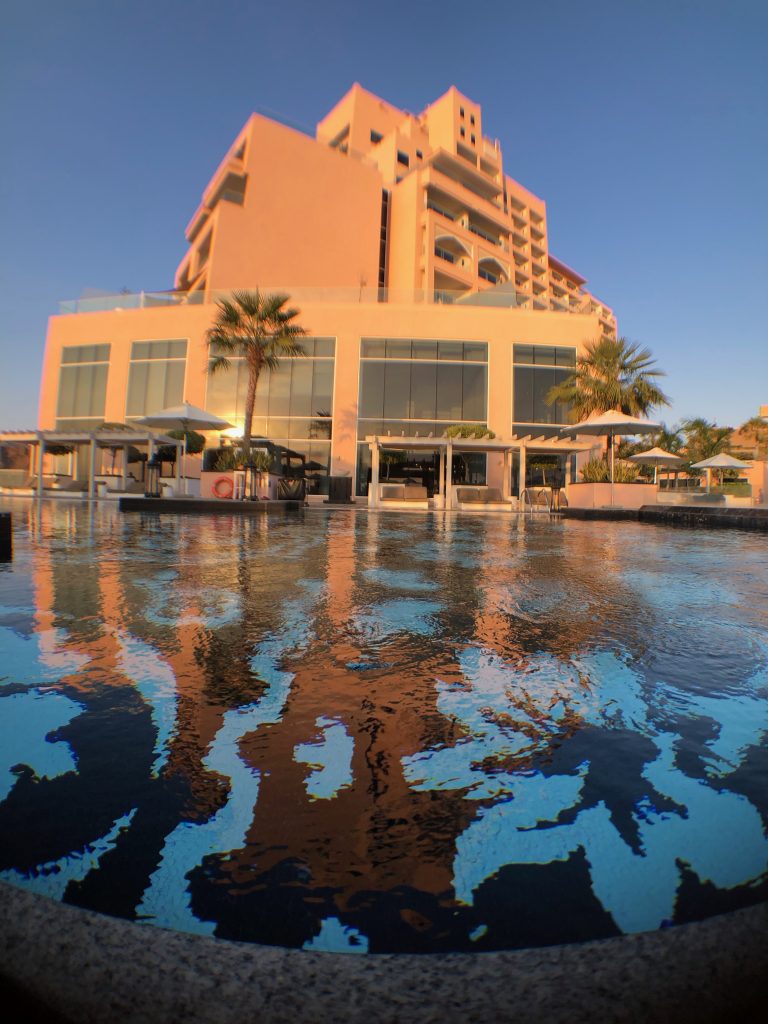 and the other an enormous pool just for adults, with live DJ and five built-in jacuzzi pools – and a lava-hot feel to it!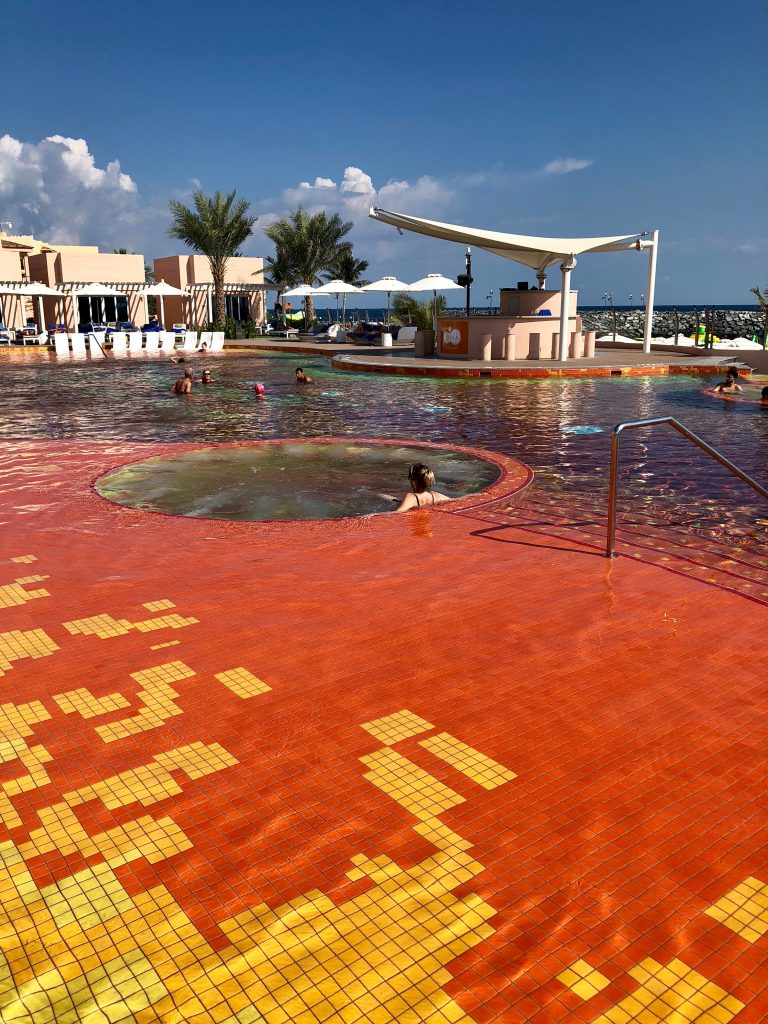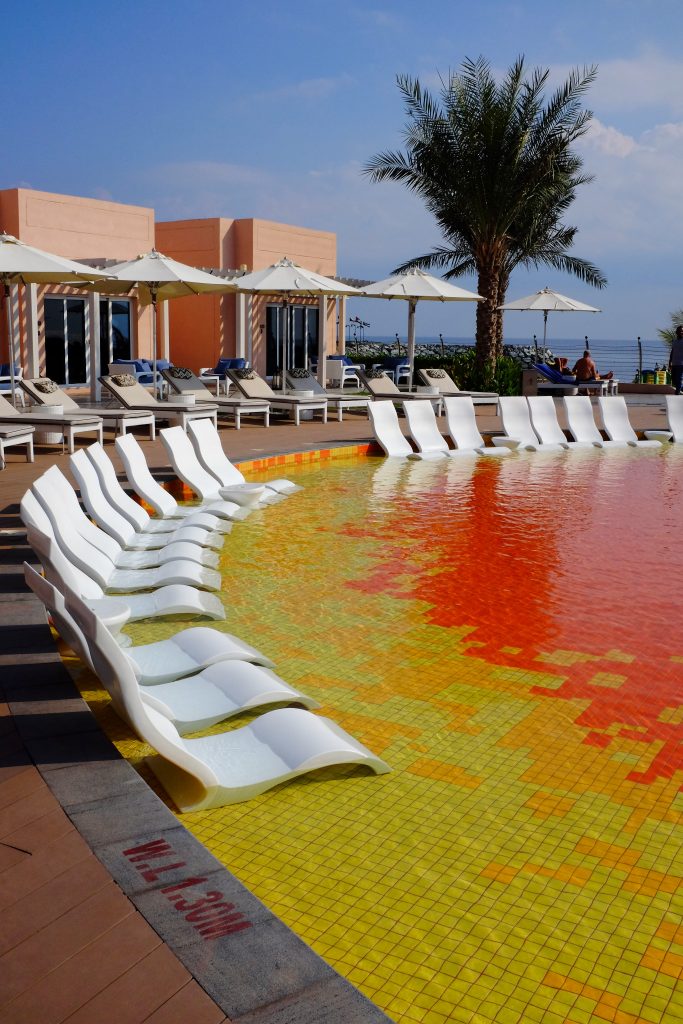 Private air-conditioned chalets with full amenities circle the lava pool to one side, the wet bar to the other, and the secluded beach is in between – sporting an exciting Aqua Bounce floating waterpark!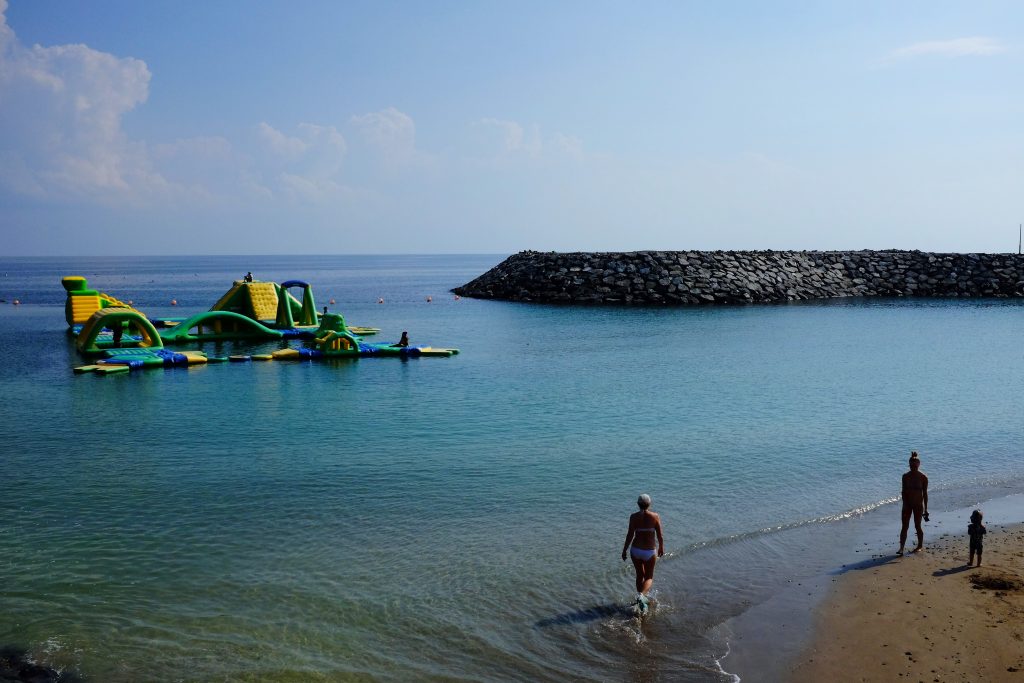 Oh, if the idea of the adult-pool turns you off because you have little ones, jump right in! Fairmont Fujairah has you covered with an exclusive kidz-only pool for themselves,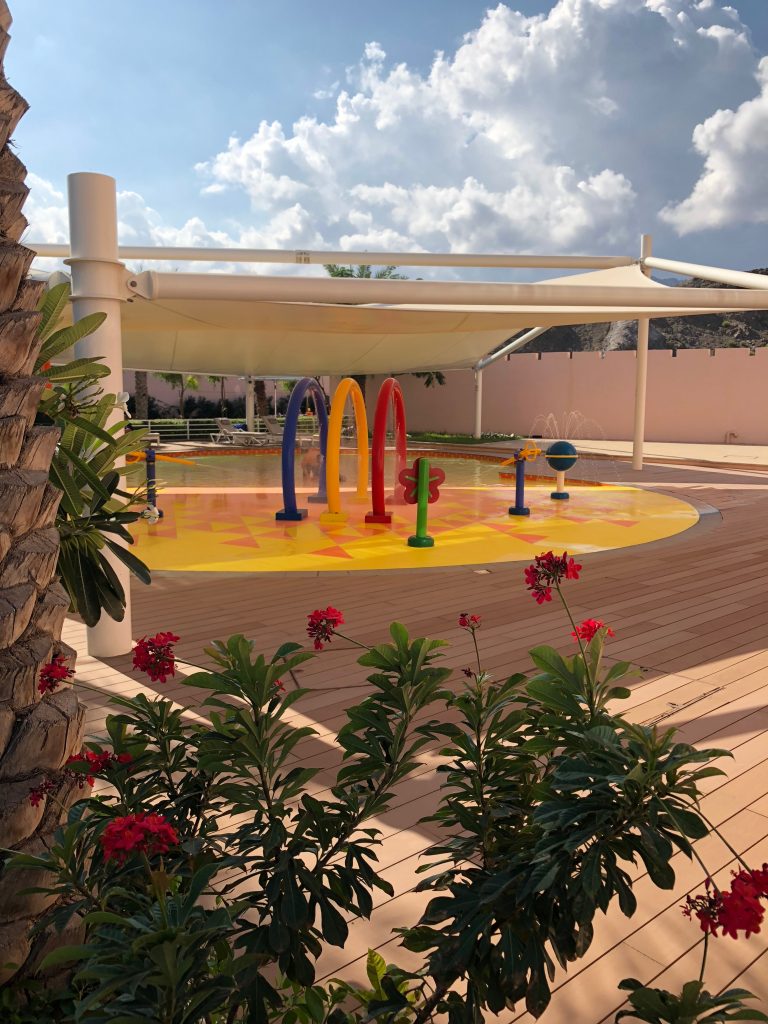 as well as Kids' Club, an outdoor play area, and even an inflatable cinema screen in the evening!
Besides the great variety of watersports, fitness activities, and all the other forms of entertainment provided, the Fairmont Fujairah is also an elegant hotel.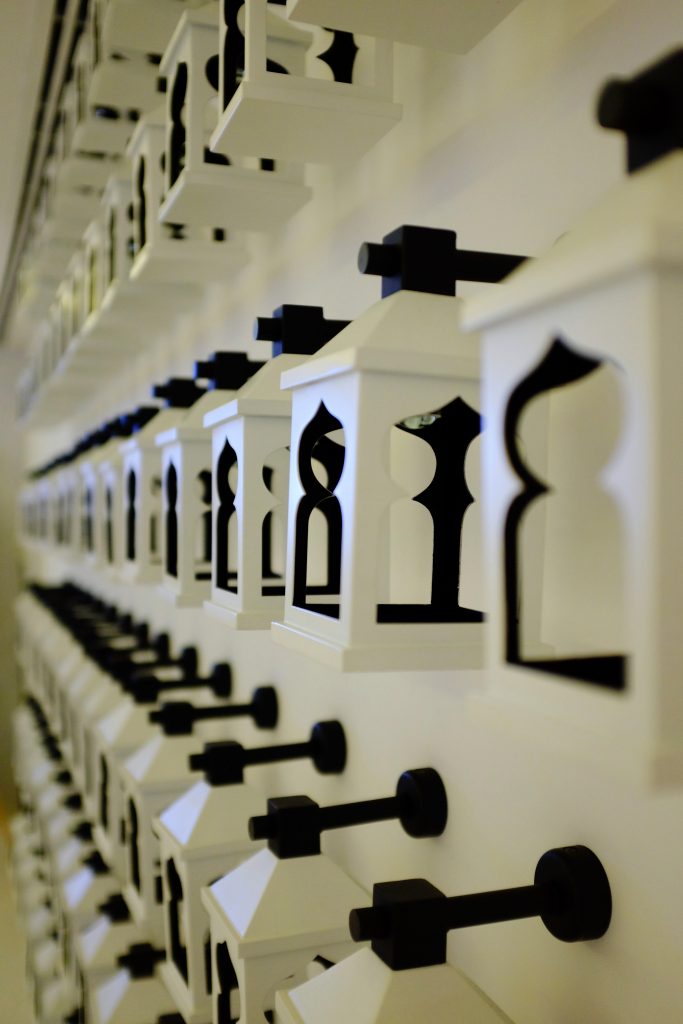 In a stark contrast to the warm sandy colors of the exterior, the hotel interior is classy and modern.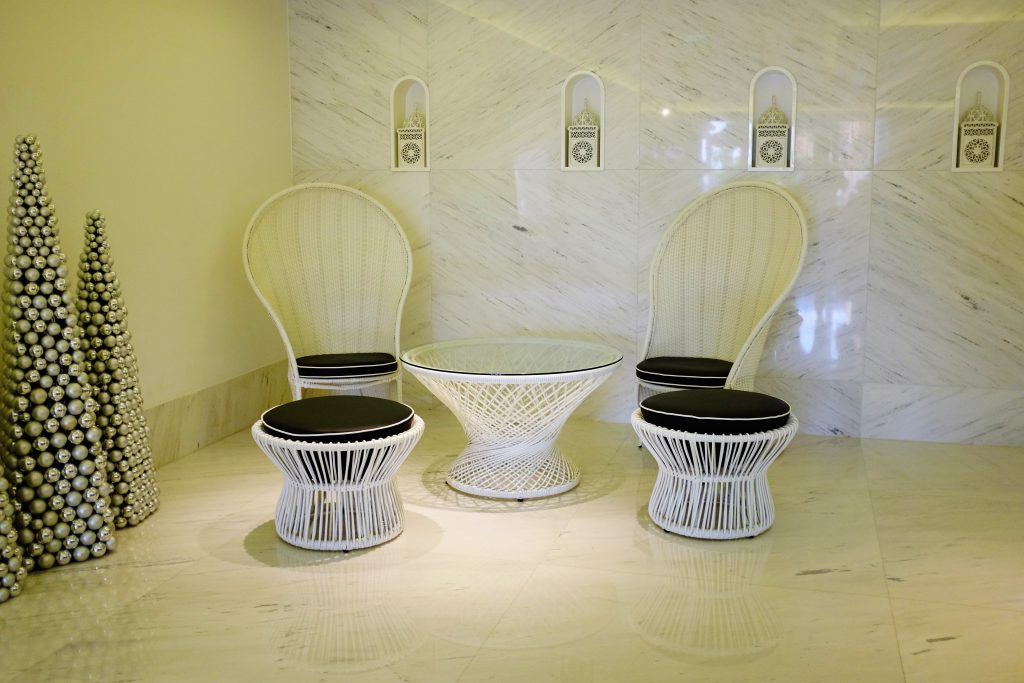 And the restaurants cater to all tastes and requests!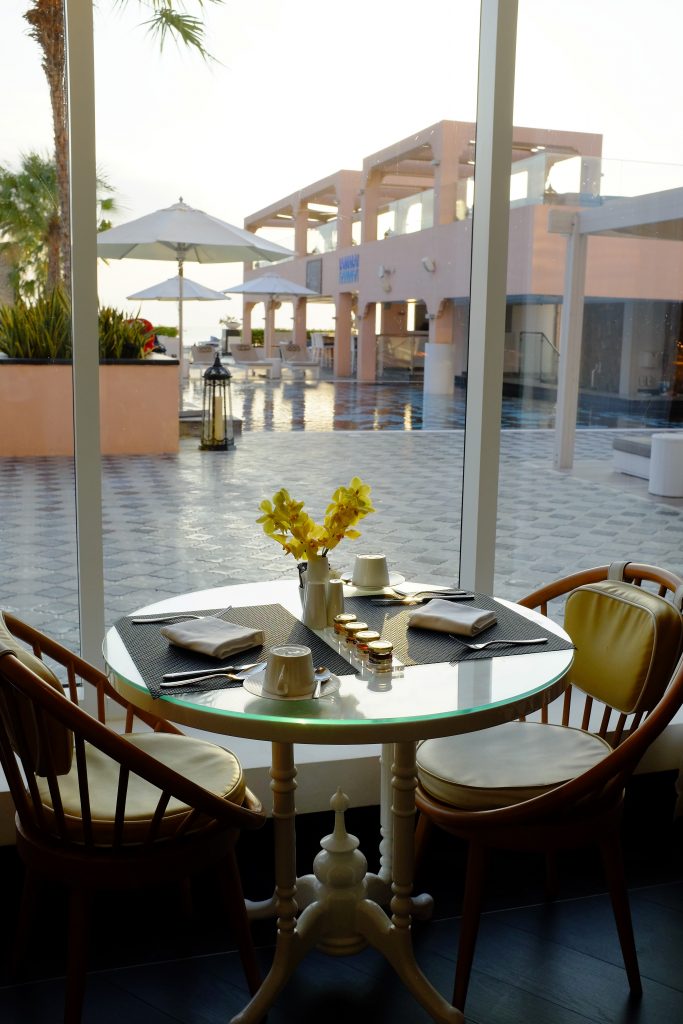 From breakfast buffet to a fine-dining evening at The Copper Lobster, the resort's signature restaurant, your culinary needs will be totally taken care of at the Fairmont!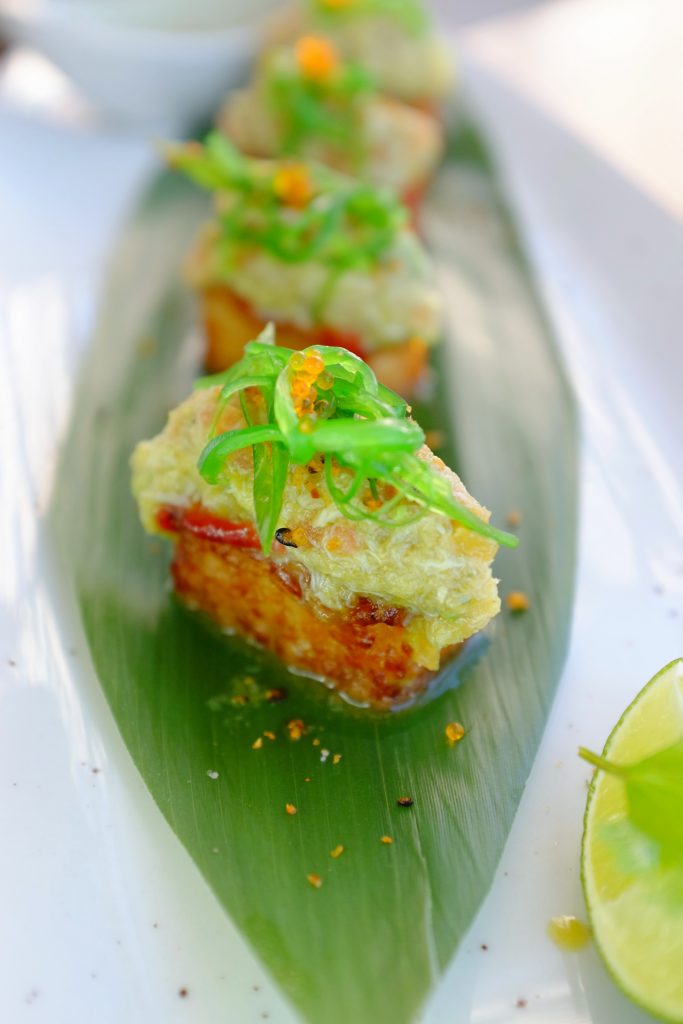 Above, a deliciously crispy crab nugget, served at the all-day dining pool-side restaurant; and below, a perfectly-cooked and marinated cod with miso.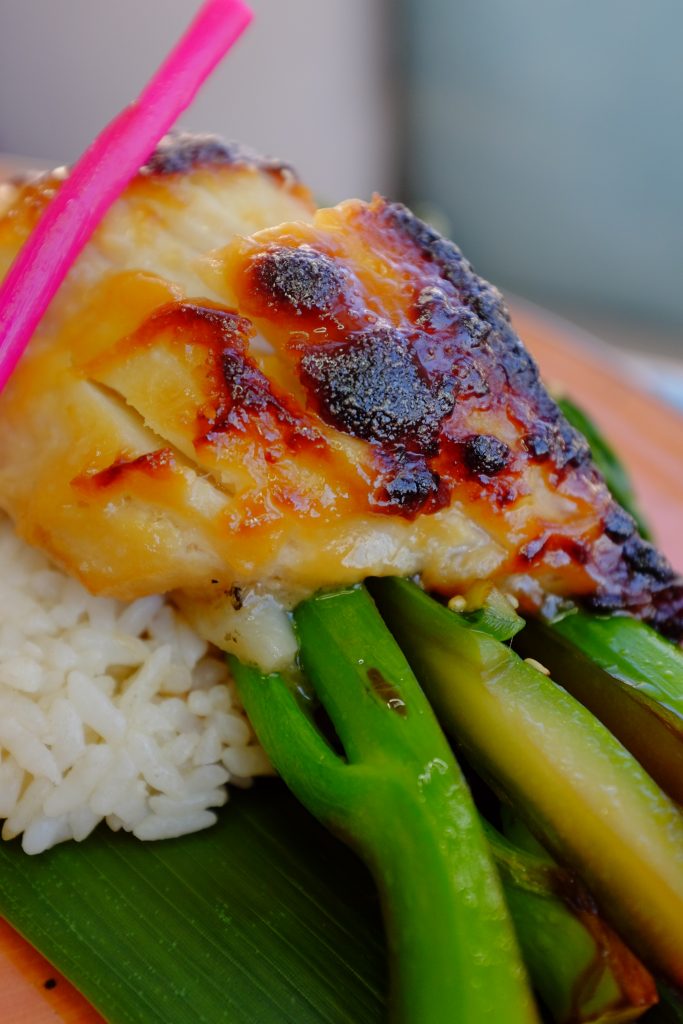 Desserts also abound, as well as healthy versions.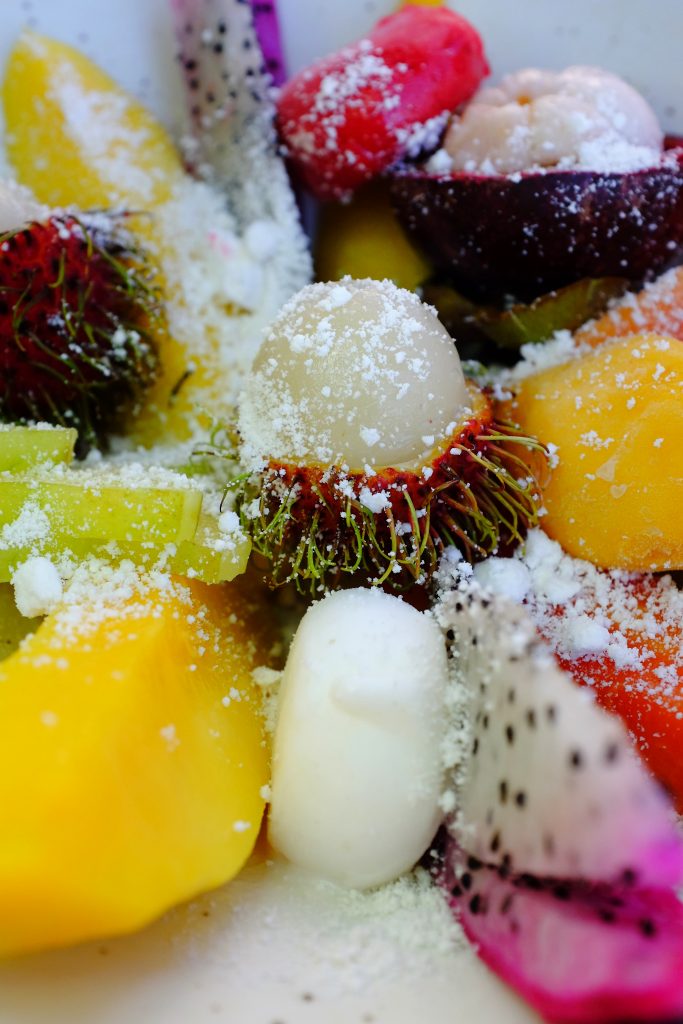 You also will never go thirsty at the Fairmont Fujairah, including a good selection of mocktails.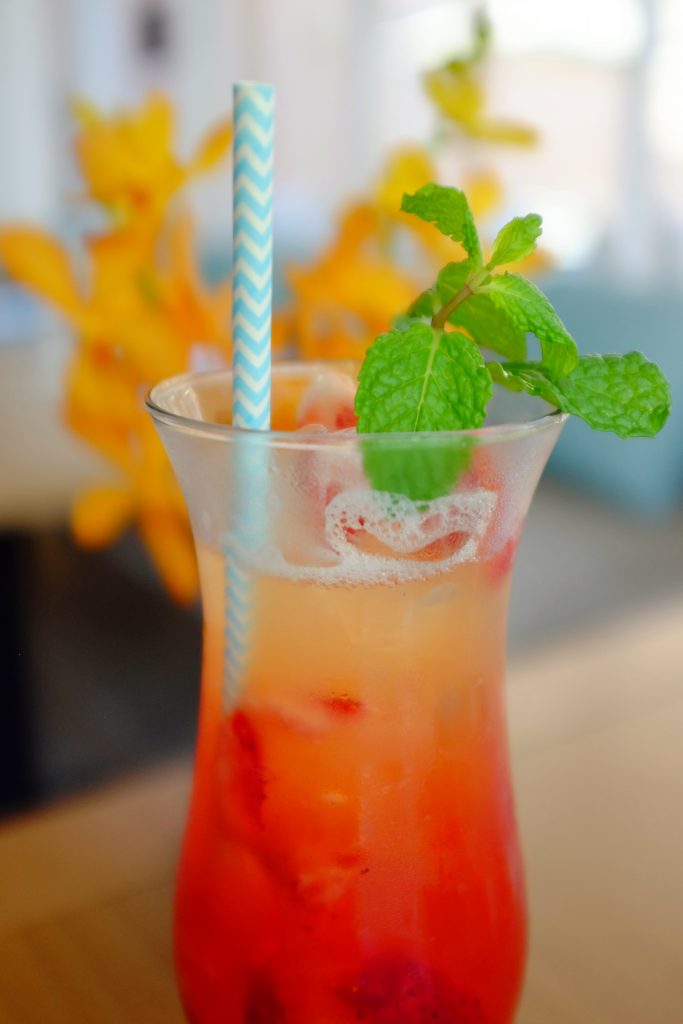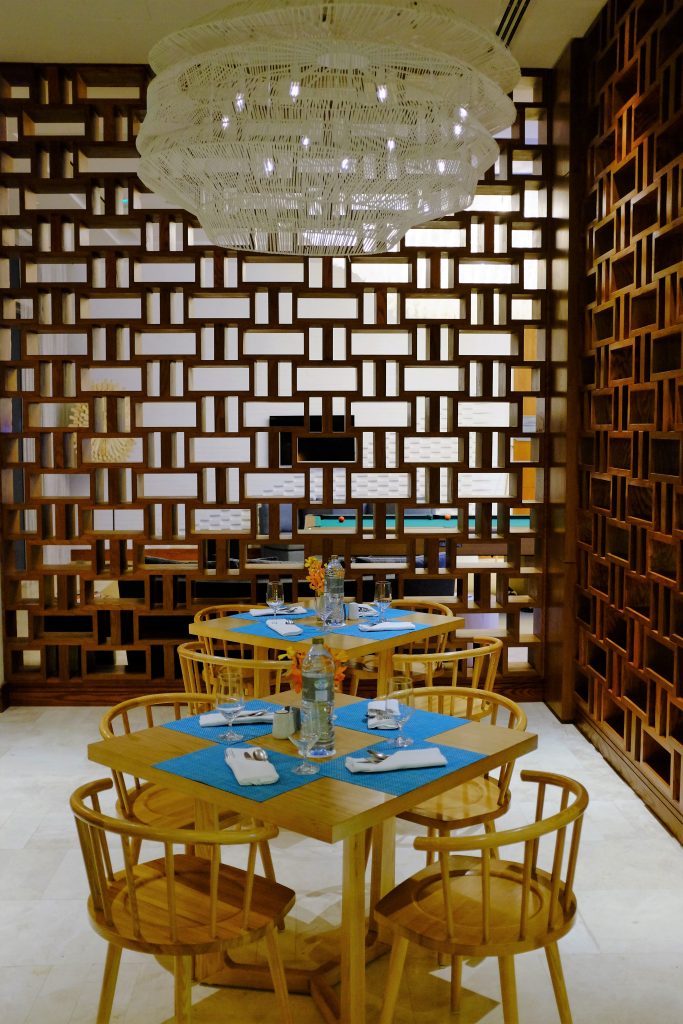 Considering all the care that goes into the services on offer to their distinguished guests, it is clear that the Fairmont Fujairah aims to impress.
With a very astute focus on the extreme ranges between super-relaxation and energetic activities; casual pool-side lunches and fine-dining serenaded by live music; adult-only and kid-only areas; a calm beach but then an exciting bouncy castle on the water – the breadth of the design to please everyone as an individual is really the resort's best quality.
You are most certainly going to feel this is "your place to be"!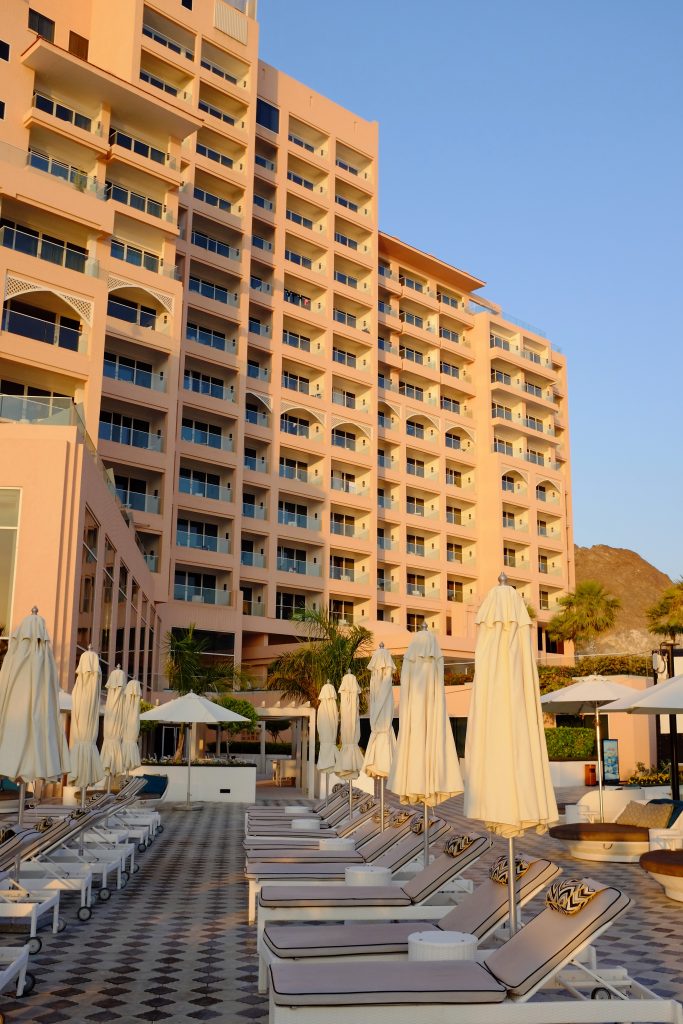 You won't want to leave, and you will probably return again and again, because there isn't anything quite like a weekend at the Fairmont Fujairah anywhere in the UAE at this point in time.